Wanted, a bona fide sporting icon. Job requirements; talent; integrity; passion; glamor; ruthlessness. Must be able to drive. As the Formula One season limps towards its conclusion after another scandal-tinged campaign the question needs to be asked - where have all the heroes gone?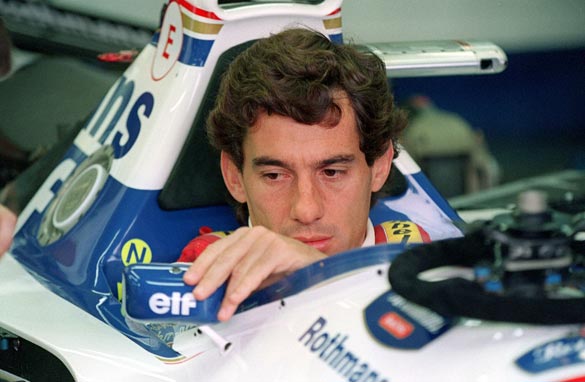 Legendary Formula One star Ayrton Senna sparked worldwide interest in the sport
In each generation of Formula One there's been at least one driver whose success and/or charisma has not only put him on top of the podium, but has acted as a beacon for the sport.
As in the heyday of professional boxing, when everybody knew who the world heavyweight champion was, the heavyweights of F-1 once needed no introduction.
Multiple title-winners like Fangio, Stewart, Fittipaldi, Piquet, Lauda, Senna, and Schumacher, were an indelible part of the culture, attracting as many casual fans as serious followers of the sport.
What's more, they often weren't alone, as mavericks like Graham Hill, James Hunt, Eddie Irvine, and others provided a fascinating sideshow with a marriage of driving talent and glamorous playboy excess.
We admired them all, envied a few, and maybe disapproved of others, but at least we noticed them, which is more than can be said for today's amorphous bunch.
That's not to say there aren't any good drivers out there. There are. But there is no stand-out talent. No personality.
That's why the eventually aborted return of Michael Schumacher was so over-hyped. Yes, he was unique a champion, and it certainly would have been good to see him pit his wits against today's field.
However, it was still kind of embarrassing that his return would have been the main event, because it signified that the championship race and the personalities involved in it are just not that compelling.
So who among the current crop has the capacity to step up? And by step up I don't mean win the championship, but actually put together a string of performances that make us give a damn in general.
Current title leader Jenson Button hardly gets the juices flowing. But for the controversial rear-diffuser advantage his Brawn GP team had at the beginning of the season, I feel he probably wouldn't be in the position he is, which also goes for his teammate, Rubens Barrichello.
At 22, Red Bull's Sebastien Vettel has shown the potential to be a serious player. But, with the best will in the world, his season has been a touch erratic, and his ultimate success is surely in the more distant future, and perhaps with a different team.
Lewis Hamilton? Well, we all know the trials and tribulations the defending champion went through, which is why he's looked so dejected and demoralized for much of the campaign.
Granted, he's promising a late season surge, but he has an awful lot of ground to make up to regain the credibility he once had as the bright young thing and face of the future in the sport.
I could go on, but you're surely getting my drift. Tennis has Federer, Nadal, Murray, and the Williams sisters.
Golf has Tiger Woods. Football has Brazil, Man. United, Barca and Real Madrid. Formula One has...... no-one!
And never mind tinkering with the rules and finances, the lack of a hero is Formula One's greatest problem at the moment. Because if you don't care WHO wins, surely HOW they win is irrelevant.