Since Kim Clijsters made a terrific and much needed return to competitive tennis last month, I'm often asked about the depth of the women's game. The question is: how is it, that she's able to compete with the top players having taken over two years off?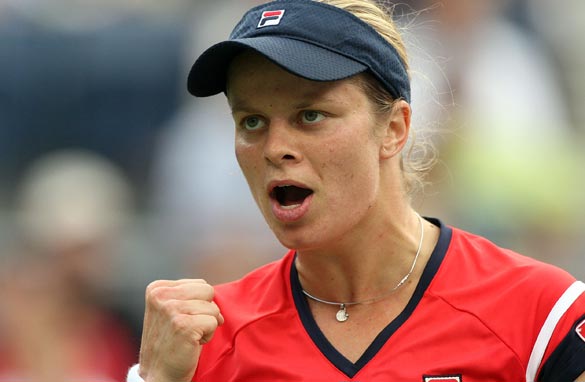 Clijsters has shown that form maybe temporary, but class remains permanent.
Does her success highlight how the standard has declined?
I don't think the level has gone down at all, it is just that Kim has adapted to life on tour again, very well indeed.
Let us not forget too, that she has been training since January and it's not as if she had to start from scratch.
If you stopped using a computer and started again in two years time, you'd still remember how to turn it on, how to type etc, wouldn't you?
For Kim, it's been a matter of getting fit again – and we're talking professional athlete fit, and getting in some match-practice. She hits the ball as well as ever, knows where to put it, and is mentally very strong judging by the way she's been winning the "big" points.
And now, she's married, has a baby, and has plenty of money in the bank; the pressure is off. She can play for fun – and stop any time she wants to.
Enjoy every minute of her "second career", as she calls it. I can't see her staying around for long. She's already said she wants another baby and when that happens, I very much doubt there will be a "third career."
By the way, Belgian media are reporting that Justin Henin is close to a comeback. Let's keep our fingers crossed!
Also, isn't it interesting that it's no longer the women's game which is easy to predict, but the men's!
We have 14 of the top seeds for the tournament making the last 16. Until Friday afternoon at the US Open none of the top 10 had even lost a set!
Austrian player Jurgen Melzer, who lost to 6th seed Juan Martin del Potro, admitted there is a big gap between the top players and the rest.
In the women's game only seven of the top seeds made the last 16.
It's a transition time with the emergence of some new, fresh faces and the decline of some old ones. Elena Dementieva's conqueror, Melanie Oudin is a future top 10 player no question, while the ultra-talented Amelie Mauresmo seems to have had her time and is no longer in love with the game.
Speaking of Mauresmo, she'd been included in my current perfect player:
Women's –
1st Serve: Venus Williams
2nd Serve: Serena Williams
Forehand: Kim Clijsters
Backhand: Serena Williams
Volley: Amelie Mauresmo
Overhead: Venus Williams
Men's –
1st Serve: Andy Roddick
2nd Serve: Roger Federer
Forehand: Roger Federer
Backhand: Rafael Nadal
Volley: Roger Federer
Overhead: Roger Federer
Which players would make up your perfect competitor?