Bavarian nerves had been jangling – Bayern Munich fans endured a disappointing second-place finish to champions Wolfsburg last season, a situation that was only compounded by an inauspicious Bundesliga start that included two draws and a humbling defeat to newly-promoted Mainz.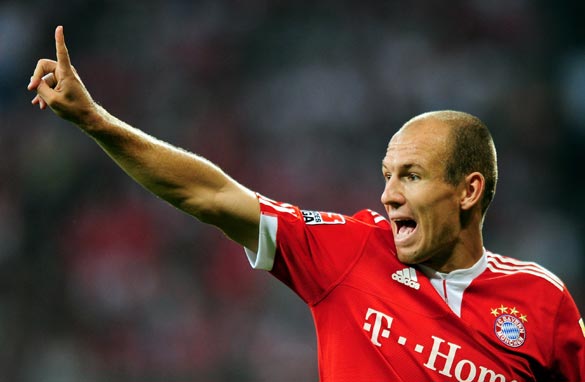 Could the deadly duo of Robben and Ribery bring glory back to Bayern?
Bayern Munich general manager, Uli Hoeness, responded as best he knows how – and pulled out his checkbook, spending $37 million on former Real Madrid winger Arjen Robben. With his target landed the only thing that remained to be seen was whether the 'flying' Dutchman could live up to his potential.
Well, if the the 25-year-old's baptism of fire against defending champions Wolfsburg was anything to go by, there is reason for optimism. Robben made a dream debut, coming on in the second half to net two goals and seal Bayern's first win of the season. But it was the style of Robben playing alongside Franck Ribery that stuck in the mind. The incredible performance from the attacking duo did much to ease the hurt of Bayern's worst start to a season in 43 years. And it sent the German media into raptures.
The puns were never-ending, and "Rib and Rob", or "Robbery" were saluted as Europe's best counter-attacking combination, whilst the Bild paid homage to the "Baylacticos" and their "football from another planet". Bayern may not possess the star quality of Real Madrid, but the double act will certainly take some stopping this season – Bundesliga be warned.
Robben's addition to the team looks to have given Bayern new life. And their strength up front is undeniable. But little has been done to solve the ills in the team's defense.
Exploiting that weakness looks to be the only hope for Bayern's opponents in the next round, Borussia Dortmund. The Bavarians will be the latest of a number of big-name opponents for Dortmund after the black-and-yellows lost to Hamburg before drawing with Stuttgart a week later. Last weekend's match in Frankfurt was a chance for Juergen Klopp's side to prove its potential against a middling side – but a disappointing 1-1 draw showed the team has a long way to go to return to the impressive form it showed at the end of last season
Bayern's big bucks looked to have set the Bavarians back on track. That's a luxury Dortmund can't afford – and which will most likely cost them the game.