Hands up who prefers watching men's tennis to women's right now?
Most tennis fans would agree the men's game is the bigger draw in its current state. Yes, the return of Kim Clijsters has helped the women's game, but real competition is lacking. How much better would it be if Justine Henin was back with racket in hand ready to do battle on court? Or if Maria Sharapova and Ana Ivanovic could recapture their major-winning form to truly challenge the Williams sisters?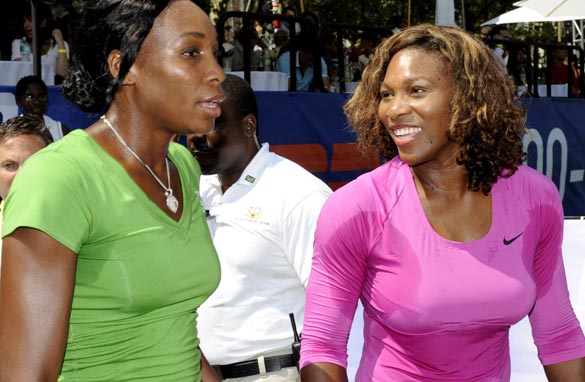 Will anyone be able to get past the formidable challenge of Williams sisters, Venus and Serena?
It's worth pointing out too that according to the WTA's rankings, Venus and Serena aside, the next best-placed American women's tennis player with a chance of lifting the Flushing Meadows' title is Melanie Oudin, rank 67 in the world. Strength and depth of talent is needed and nowhere more so than in the United States.
As for the 2009 champion, well, it's hard to look past the Williams sisters, despite their relatively poor form heading in to the final major of the year. But as we've seen many times in the past, both can turn it on come grand-slam time.
I'd personally like to see Elena Dementieva win it. She's overdue for a major, but whether she has the nerve to go all the way, still remains to be seen. I thought after she won gold in Beijing that she'd turned a corner, but still have to be convinced.
Dinara Safina's another who has the ability to grab a first grand slam triumph. She's the most consistent player on tour, but as we've seen this year in major finals, the temperamental Russian doesn't seem to believe in herself on the big stage.
The men's game currently sees the top four some way ahead of the chasing pack. Can you really see someone other than Roger Federer, Andy Murray, Rafael Nadal or Novak Djokovic winning the U.S. Open? I can't.
They are sure to be tested somewhere down the line at Flushing Meadows by the likes of Andy Roddick, Jo-Wilfried Tsonga and Juan Martin Del Potro, but it would not be the biggest upset to see a top four semi-final showdown, just like at the Cincinnati Masters.
Now he's won number 15, and claimed his first French Open title, Federer can relax as he goes for a sixth straight triumph in New York. He's the overwhelming favorite and the winner, if, he plays somewhere near his best.
A lapse could see new world number two Andy Murray clinch his first grand-slam title. You'll remember that he was Federer's opponent in last year's final and Murray has admitted that his best chance of major success is likely to come in New York.
Nadal seems to prefer the slower courts of Melbourne to those in the Big Apple, and having just returned from a two-month injury layoff, could be the one to be upset early. Djokovic, meanwhile, is fighting fit, judging by his performance in Cincinnati and is arguably Federer's greatest threat.
My prediction:
Federer will win the men's. Serena will claim the women's.
What do you think?