"I'm really happy that Usain broke the record." Huh? Those, surprisingly, were the words of United States sprinter Tyson Gay after he, and the rest of us, watched the Jamaican smash another 100-meters world record at the World Athletics Championships in Berlin.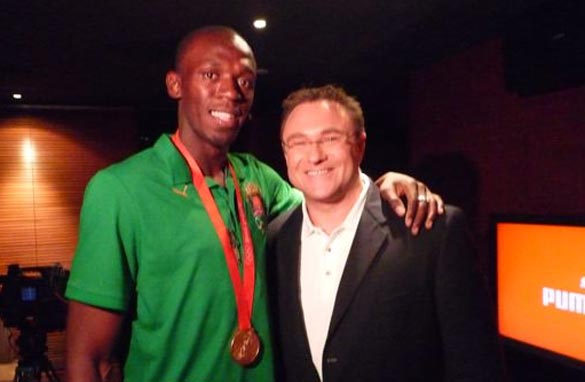 The man, the legend, Jamaica's Usain Bolt.
O.K. let's add some context to Gay's comment. The American had a front row seat to history in the German capital as he finished runner-up to Bolt in the "world's" marquee race. While battling through the pain of a groin injury, Gay still blazed a personal best and U.S. record time of 9.71 seconds. This, of course, paled in comparison to Bolt's lightning-fast winning time of 9.58 seconds. Gay, the second fastest human on the planet, told reporters: "I knew it was humanly possible for someone to run that fast. Unfortunately, it wasn't me."
What Bolt is doing is something we might not see achieved on the track for a long, long time to come, if ever. The Jamaican is pushing the limits of the human body and he appears to be doing it with the greatest of ease.
After twice interviewing the 22-year-old during last year's Olympic Games in Beijing, there are a couple of traits that I believe contribute to his continued success. First, Bolt is lanky - 6 feet, 5 inches tall to be exact (1.9558 meters). Long legs create quite an advantage when a sprinter strides down the track.
Bolt is also one of the most laid back individuals that you'll ever meet. Youthful exuberance when competing in the high-pressure world of athletics goes a long way in remaining cool while the heat is on. Bolt has this happy-go-lucky personality synonymous with someone raised in the Caribbean. In fact, he does care very much about what he's doing and wants to be known someday as a living legend. Many think that he's already achieved that goal but Bolt disagrees. Speaking in Berlin after once again doing the amazing in the 100, the sprinter said that he doesn't think he can reach legendary status in just two seasons of glory. He said that it comes with being consistent year in and year out and with hard work.
So, how low can he go? Perhaps the best is yet to come. Bolt is on record as saying that he thinks he can take the 100-meters world record down to 9.4 seconds. Put me in the category of believers!
It may sound hard to believe but Bolt says that he doesn't run for world records, he just keeps on working. Well, what he's doing IS working and we are all benefiting from it as fans of athletics.
Sure, he's not the most humble of characters, what with his trademark "lightning bolt" stance and his playful antics toward the track side television cameras. But, Bolt is hard not to like. What he's done over the past couple of years is bring much needed personality to a sport that has lacked it of late. Couple his playful nature with his uncanny ability to wipe out world records in 30-something steps and the sky is the limit for Usain Bolt who, like lightning, will strike again very soon.