One year ago, I was witness to a number of incredible sporting achievements in the Chinese capital.
The opening week of the 2008 Olympic Summer Games in Beijing, belonged to Michael Phelps. The United States swimmer capturing our imaginations with his incredible, gold medal-winning performances in the pool.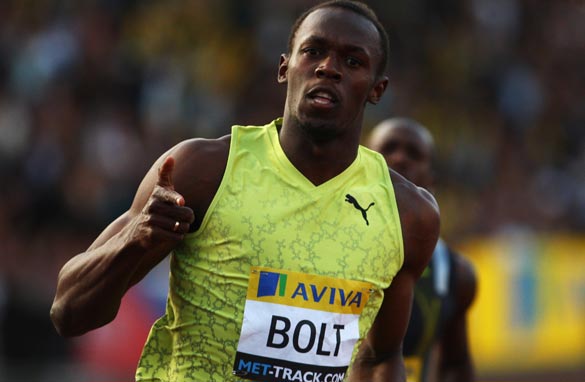 Usain Bolt looks unstoppable ahead of this upcoming world athletics championships in Berlin.
If Phelps whet our collective appetites, then Usain Bolt delivered the dessert!
The Jamaican sprinter closed out the Beijing Games with a bang…three races, three world records, three Olympic gold medals.
A year later, at the World Athletics Championships in Berlin, Bolt is ready to defend his title as "World's Fastest Man". It is not likely that he will leave Germany disappointed.
Proclaiming that he is in the best shape of his life, defending world champion Tyson Gay is prepared to give Bolt the challenge that he never had in Beijing.
The anticipated Bolt-Gay Olympic showdown did not materialized after the American pulled a hamstring muscle in the U.S. Olympic trails. Berlin provides Gay a platform to show that he can give Bolt a "run for his money".
The last time these two men met was in May 2008. It proved to be Bolt's coming out party. While previously running in relative anonymity, Bolt burst onto the scene that night in New York with the first of his two world records in the 100-meters. Gay has been playing second fiddle ever since.
It would probably be for the good of athletics if Bolt had some real competition. Then again, don't we wish that for other sports? Who has stepped up to tame Tiger Woods in golf? Why hasn't anyone halted, or even slowed, the Roger Federer Express in men's tennis?
Tyson Gay doesn't sound intimated by Usain Bolt and he's quick to give the Jamaican his "props". But, until he proves otherwise, Gay will always have to hear that that he is a good but not a great sprinter.
Last month, before a meet in London, Bolt told a reporter that on his best day he doesn't think that Gay can beat him. The Jamaican has had a number of "great" days over the past year. There's no reason to believe that he won't enjoy a satisfying stay in the German capital.