So now we have it, the final confirmation that the Olympic motto of "citius, altius, fortius" - or faster, higher, stronger - counts for absolutely nothing when it comes to the selection of sports for inclusion in the 2016 program and beyond.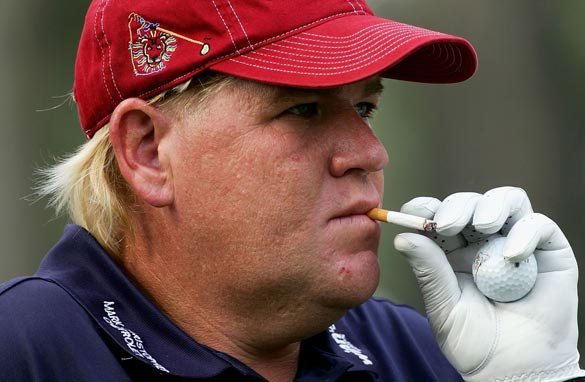 Golfer John Daly, infamous for his off-course excesses, is regularly seen smoking while playing.
With the greatest of respect to golf, and I happen to believe that Tiger Woods lays claim to being the greatest sportsman of all time, it no more fits that Olympic ideal than an energetic game of tiddlywinks.
I have this vision of a by-then 50-year-old John Daly chain-smoking his way to gold at the 2016 Games, his not inconsiderable belly peaking over a set of garish trousers in the colors of the United States of America, with the silver going to Spain's Miguel Angel Jimenez, giant cigar in one hand, and bronze to 66-year-old Tom Watson, revived after his second artificial hip operation.
More than likely, the gold will be won by Tiger, but in his heart of hearts how will it rate against breaking Jack Nicklaus' record for 18 major titles, as he surely will, sinking the winning putt at the Augusta Masters, claiming the British Open at St Andrew's or the U.S. Open at Pebble Beach ?
Which brings me to my second argument, and leave aside questions of athletic ability, the strongest argument for Olympic inclusion should be that winning a gold medal must be the very pinnacle in their respective sport.
Think of the runner Paula Radcliffe's abject misery after failing to win the women's marathon at the Athens Olympics. She would willingly, I am sure, swap all her world records just to get her hands on gold, just once.
And however much professional tennis players and now golfers enjoy playing for the countries at the Olympics, it remains a secondary ambition - whatever Colin Montgomerie might have told the IOC in golf's apparently impressive presentation to the executive board. So what's it to be Monty, an Olympic gold in golf or winning the major that has always eluded you ? I think I know the answer.
Which is why I cannot find a vestige of enthusiasm for the inclusion of rugby sevens, a game requiring considerable physical ability, but just a watered-down version of the proper 15-a-side game, which has its own World Cup and Tri-Nations and Six Nations titles as the highest honors in its sport.
In fairness to the IOC executive board, the opposition to golf and rugby sevens was not terribly strong, with baseball and softball, whatever their advocates might say, played in too few countries and having been hardly a roaring success with their inclusion in previous Olympics to satisfy the American television audience which pays the IOC a hefty sum for the rights.
Karate undoubtedly had a case. However, it's a sport which might look good in Bruce Lee films, but like Taekwondo is rather disappointing visually and full of obscure rules which make it difficult to understand, which brings me to squash and roller sports.
Most people believe that squash is already in the Olympics because it's the sort of sport that should be, requiring immense skill, stamina and courage, played by some of the fittest sportsman in the world and in most countries in the world.
While roller sports - and I used to be very sniffy about the Extreme Games and the like - captures the imagination of youngsters all over the world in a way that, quite frankly, golf and rugby sevens will never do.
But of course they never had a chance against the cash-rich federations representing golf and rugby and the vested commercial interests which are threatening to undermine the Olympic ethos. They should have a new motto: Money Money Money.