LONDON, England - It is hard to believe that all of the dirt, mud, and blocks of concrete at the "Olympic Park" will, in three years, be a fresh new space with gleaming buildings, green trees and grass fit to host the biggest carnival in World Sport. Are they really going to finish in time? Can they turn all of this into roadways and landscaping in time for 2012? It is a vast space, and it seems like there is just so much to do in such a short space of time. For the media invited to an open day, on the three-year anniversary before the start of the event, such questions of doubt would need some reassurance to not resurface in news reports over the coming days.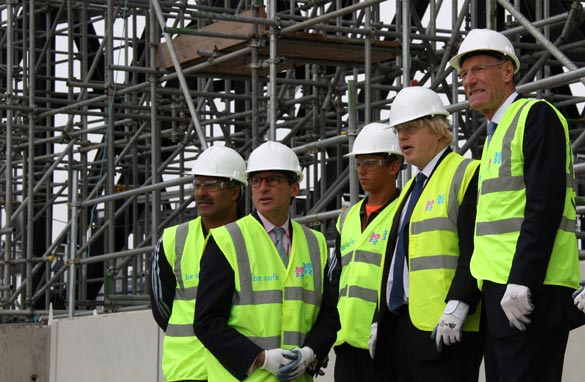 Dignitaries including London Mayor Boris Johnson and the chairman of the London 2012 Olympic Committee Seb Coe look at the stadium rising from the mud.
One shiny, gleaming promise that has already been delivered is the "Javelin" high-speed train which will take 25,000 visitors an hour from central London to the Olympic Park. Riding it is a treat - it is quick (225kph), modern, and clean - and the journey time of the 10km route was only seven minutes. It's door-to-door service from one brand new station to another.
Cranes and construction sounds welcome travelers who leave the train and head towards the Olympic Park - to the right are the unfinished, empty high-rise skeletons of the athletes' village, to the left random concrete pylons stick from the ground. Maybe it was the cold and rain that led to a pessimistic mindset but thoughts wandered again towards the mountainous task of meeting the Olympic deadline and whether tourists will have to pack winter clothes for a "summer" Games.
People measure progress in different ways on construction sites. Most of us see buildings popping out of the ground as a sign that things are moving along. But we don't think about all the preparation that's had to be done in the ground - the laying of electric cables, the dredging of rivers, the clean-up of waste and contamination - before they can even build those buildings.
In the final analysis the consensus was that progress was on track and within budget. The sun finally broke through by the end of the trip and the big white clouds seemed to carry away any doubts about whether this place will be ready by 2012. But then a thick drop of water fell on the top on my head from the unfinished stadium - a reminder that a lot more still needs to be done.