Has Jose Mourinho lost his voice? I only ask because I've just returned from covering Inter Milan's clash with Chelsea in the grandly named, "World Football Challenge" in Los Angeles, and the Inter Milan boss was so quiet he was nigh on mute!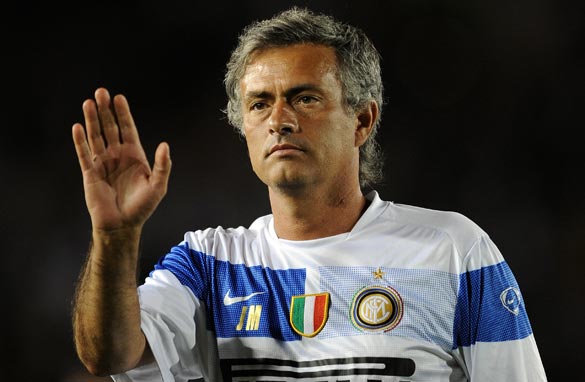 Mourinho the mute.
It was particularly strange because during his time as Chelsea manager, the self-anointed "Special One" was a motor-mouthed media dream. Always good for a quote - whether berating officials, playing mind games with his rival managers, or simply announcing how great he was - Jose was a sound bite machine. What's more, while his bon mots were delivered with a smug arrogance that would've prompted pistols at dawn in another era, there was often a tongue-in-cheek subtext to what he said, and we loved his artfulness. So what has happened?
It wasn't just that the suddenly zip-lipped coach refused to say anything to any media outlet, it was the manner in which he brushed us all off. Flippant, dismissive, supercilious - pick your poison - he made the media feel as welcome swine flu.
Now excuse me for asking, but aren't pre-season overseas tours as much about promoting your club as honing your team for the campaign to come? Inter's Managing Director, Ernesto Paolillo, said as much when he spoke with CNN, and it's no secret that when the likes of Real Madrid, Manchester United, Barcelona, and AC Milan hit the road in the pre-season they're selling a brand.
Indeed, AC Milan could not have been more accommodating in their dealings with the media in Los Angeles. The Rossoneri's PR department hand-delivering coach Leonardo and his superstar roster to cameras and fans alike with a smile. Of course, the club had its agenda, but it's a mutually beneficial arrangement; so no harm, no foul.
Inter, on the other hand, preferred to be elusive and obstructive. And Mourinho, the man we all wanted to speak to most, was the main offender, issuing the lame excuse via his powerless PR man that he doesn't want to talk while the transfer window is still open. Why? The window's open but the subject doesn't have to be, just tell us it's off limits and discuss the myriad of other topics Nerrazzuri fans would like to know about.
Chelsea boss, Carlo Ancellotti, spoke to the media. Leonardo gave us an unprecedented one-on-one interview at Milan's hotel on MATCHDAY! But Jose kept schtum, creating media frustration and a disappointing impression of the reigning Italian champions, who, as relatively recent arrivals at the top of the European game, should surely have been shouting their wares from the rooftops.