The flaws of the England cricket team in Cardiff were obvious and too long to list on the short space provided here; but even Australia showed signs of weakness during the first Ashes Test.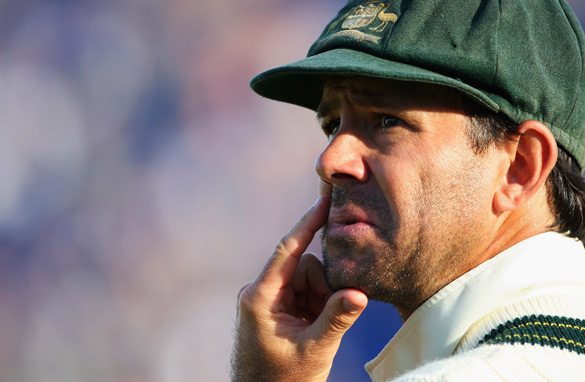 Ponting ponders how victory escaped his side in the first Ashes Test against England in Cardiff.
Despite his impressive record as skipper, Aussie captain Ricky Ponting continues to attract criticism both at home and abroad. His nation's only Ashes series loss over the last two decades came under his stewardship, in 2005, and for many an indelible image of the defeat was how the Tasmanian lost his cool after being run out by a Pratt (surname of England's controversial stand-in fielder Gary).
There were echoes of that incident on the final day's play in Cardiff when England's 12th man, Bilal Shafayat, came on in successive overs in a thinly-veiled, time-wasting tactic to incur the ire of "Red-Mist Ricky."
It was hard not to be entertained watching the Australian captain's face, a brief flicker of bemusement quickly changing to anger. He barked at the hapless Shafayat and complained to the umpires. No psychologist was needed to determine that on both occasions, in 2005 and 2009, the source of Ponting's frustration was not with his opponents, but came instead from within.
Four years ago, England's consistent competitiveness surprised him. This time, he was frustrated by letting, what seemed a comprehensive victory, slip through his fingers. No doubt Australia's captain misses the pace bowling of Glenn McGrath and creative spin of Shane Warne, but critics argue without the former greats to rely on Ponting proves tactically brittle. His current bowling attack showed some teeth in the first Test but the legendary bite of Warne and McGrath remains a big loss.
Nonetheless, when you compare the contribution of Ponting with Andrew Strauss, in Cardiff, Australia's captain fared far better than England's. Strauss's batting looked solid but he failed to convert his form into a large total in either innings. He also looked helpless as Australia racked up the runs in their record-breaking first innings.
Tactically, Ponting may have his detractors but it's impossible to argue that his individual score of 150 was anything other than a fantastic tone-setter for all of his batsmen. History is reserving judgment on Ponting the captain, for now, but Ponting the batsman is already one of the sport's best ever.