I'm beginning to think that the croissant I had for breakfast was a complete waste of time, such is the amount of free food and drink being offered to me by the Tour de France organizers.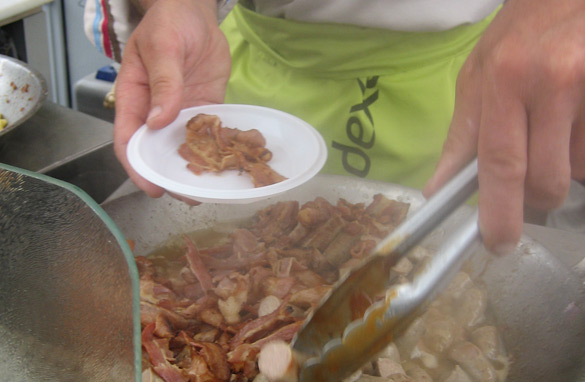 A mini-breakfast of bacon and sausage, just one of the many free food options in the Tour de France village.
Luckily enough, I have the correct 'accreditation' to enter the Tour village, prior to the 10th stage from Limoges to Issoudun and, despite the drizzly conditions, I am certainly not alone.
It is easy to see why they call it the village. I haven't located a bed yet, but there is a sufficient amount of food, drink, toilet facilities and entertainment, to provide me with everything I need should I, and the thousands of other privileged enough to have the 'golden ticket', get locked in here for the next month.
While the rank and file are being entertained by all sorts of weird and wonderful creatures who form part of the Tour de France cavalcade, I begin my feast-fest by tucking into a couple of mini-pastries.
I decline the offer of some coffee and opt out of the wine-tasting, which seems surprisingly popular considering it is only 10:30am. I am handed the French sports newspaper L'Equipe. It's a great read, for those who speak French, but as my vocabulary is limited to 'bonjour', I fear it is wasted on me.
A man is offering me fruit by the handful. I accept an orange and a little green thing which I think is a sort of plum, very nice it is too, before gratefully scooping up some sweets courtesy of our friends at Haribo.
Bizarrely, I can't find any water so I decide to partake in an apricot ice drink, which I soon realize is a huge error as my brain freezes up for a good 20 seconds.
There is a crowd gathering around a particular tent, where I notice the genial host/chef is offering up a mini fry-up of bacon and sausages. Imagine, if you will, having to create a breakfast for a doll's house...then this was it. Bacon was a bit on the fatty side, but that's just me being ungrateful for no reason.
Before I get stuck into the mini-pasta dishes, I hear a commotion. The riders are beginning to arrive and I've got to start work. With regret I leave the much-fancied diet of durum wheat to attend to business, with much food for cycling-based thought.