Cristiano Ronaldo's new Real Madrid shirt sold out at the club store on Tuesday. A total of three thousand strips gone in one day. Hundreds were also reported stolen.
"Ronaldomania" is at fever pitch in the Spanish capital and is showing no signs of relenting as his first training session approaches on Friday. Fans of all ages have been captivated by the arrival of the most galactico of all galacticos.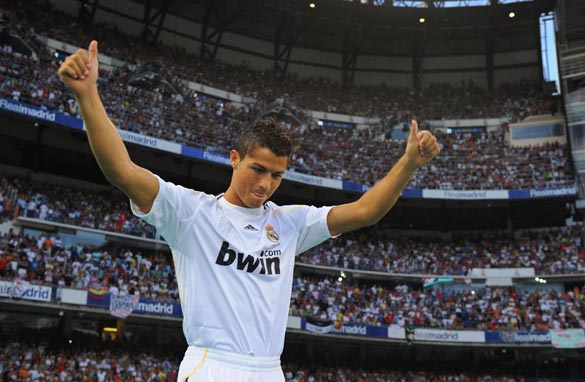 Move over The Beatles, here's Ronaldo.
The screams and shrieks heard at CR9's (the nickname that stands for Cristiano Ronaldo number nine) unveiling on Tuesday surely rivaled the rapturous response The Beatles experienced while at their peak in the 1960s. I am too young to have been at any of their concerts, but I gather the hysteria was simply overwhelming.
At the Bernabeu, hysteria was in the building. I even saw fans running onto the pitch and dodging past security, trying to touch Cristiano as he walked by. For a rock star maybe, but for a footballer?
What really impressed me on Tuesday was Cristiano's composure in the face of the chaos which surrounded him. He never stopped smiling or waving, even as supporters crowded and pushed around him in search of an autograph or a handshake.
He took it all in, and then was also calm enough in the press conference to answer multiple questions in Portuguese, Spanish and English, about his footballing skills and personal life.
– Shouldn't you get a girlfriend?
– How will you resist temptation?
– What about the paparazzi?
Not questions you hear every day at a normal football presser, but then again, this is not a normal footballer. Instead of showing impatience of frustration, Ronaldo smiled and answered calmly.
He said there is time for everything in life and he plans on having fun as long as it doesn't interfere with his job. He added he likes to stay at home and will try to stay away from the limelight as much as possible.
Sadly for him, that won't be possible. Every move will be watched, every word studied. The best he can do is concentrate on the job at hand, and that is helping Real Madrid on the field to become a force to be reckoned with. That is why the club spent a world record transfer fee to bring him to the Bernabeu.
Then again, if they sell a few more thousand shirts and tickets, they won't complain. The club has to strike while the iron is hot. And it could not be any hotter at the moment.