July 20, 2010
Posted: 1315 GMT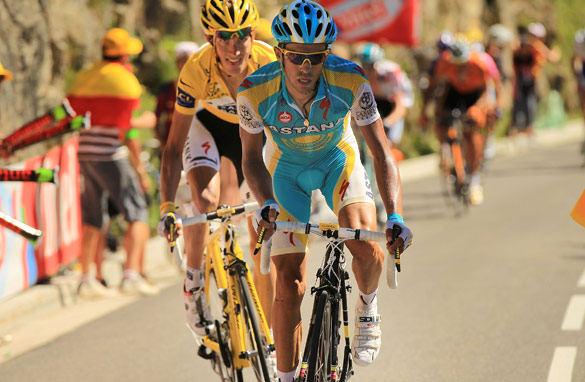 Alberto Contador leads his main rival Andy Schleck in the Tour de France. (AFP/Getty Images)
(CNN) – Arcane ideals of sportsmanship often seem out of time in a modern world of professional sport in which doping, match-fixing, handballs and controversies over referees, umpires and technology long ago clouded the Corinthian spirit to which purists still cling.
Given that cycling has long been tarnished by allegations over doping - arguably the most cynical and premeditated way in which a competitor can seek to gain an advantage over a rival - casual followers of the sport might have assumed that a sense of fair play had gone the way of the penny farthing.
Posted by: CNN, Simon Hooper
Filed under: Cycling
January 21, 2009
Posted: 1200 GMT
LONDON, England – Having missed out on one Brazilian, Manchester City could now be in danger of losing another one. Robinho, a big money summer signing from Real Madrid, is so disappointed at City's failure to land Kaka from AC Milan that he has fled to Brazil and is determined to leave the club whatever the consequences, according to the Sun.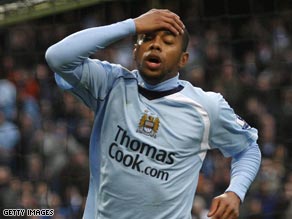 Could Robinho be on the brink of quitting Manchester City after just half a season?
The Brazilian's agents are reported to be looking to secure him a move before the end of the January transfer window - with Luis Felipe Scolari's Chelsea set to pounce if the player becomes available.
Meanwhile, Didier Drogba has dropped further hints of his desire to quit Chelsea after telling French newspaper La Provence that he has "unfinished" business at his former club Marseille.
"I still love this club and it will never change, whatever happens," Drogba said. "It's not necessarily the right moment for me to speak about a possible return... If something is made to happen, I don't know on which conditions, Marseille are going to have to contact Chelsea... I have not opened the door to a possible transfer, I've simply explained the situation."
Another player who could be deemed surplus to requirements at Stamford Bridge is French winger Florent Malouda - with Villarreal preparing a £9 million bid, according to the Daily Mirror.
Atletico Madrid have become the latest club to express an interest in Lyon's Fred with Marca reporting that the Spaniards are looking to sign the Brazilian striker when his contract expires in June. The French champions are looking at another Brazilian striker, former international Ricardo Oliveira, currently banging in the goals for Real Zaragoza, l'Equipe reports.
Finally, Arsenal continue to suffer frustration in their pursuit of Andrei Arshavin with Zenit St. Petersburg refusing to drop their £18 million valuation, the Daily Telegraph reports. The Gunners have bid £12 million for the Russian playmaker; Zenit could yet be persuaded to do business for £15 million the paper says.
Posted by: CNN Digital Producer, Simon Hooper
Filed under: Football
January 15, 2009
Posted: 1039 GMT
Stay up to date with all the comings and goings in the transfer window with CNN.com's daily wrap of the latest rumors and gossip from Europe's sports pages.
LONDON, England - Manchester City have withdrawn a $150 million bid for Brazilian superstar Kaka, according to arabianbusiness.com.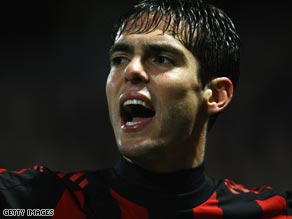 Uncertainty hangs over Kaka's future at AC Milan.
A source close to the club's Abu Dhabi-based owners told the Web site: "The deal is off, and the offer is no longer on the table. The club is now pursuing another striker which it is very close to signing. Manchester City is about to unveil a new striker, but he is not called Kaka."
But Kaka could be interested in a move to Eastlands after all despite earlier claiming that he wanted to stay at Milan, according to press reports Thursday. Italy's Gazzetta dello Sport said that the 26-year-old's father was set to hold talks with City officials.
Meanwhile, the Sun claims Kaka could join City providing an exit clause in his contract would allow him to leave should the club fail to meet any of four key criteria: a) City qualify for the Champions League within two years; b) fellow Brazilian Robinho stays at Eastlands; c) Kaka's representatives retain sole ownership of the player's image rights; and d) City owner Sheikh Mansour continues to invest substantially in the club.
Kaka's agent, Diogo Kotscho, said: "If Manchester City come to an agreement with Milan we will talk to them - but it is not just about money. They have to show us that this is a project that we will be interested in."
Manchester United have joined the list of clubs interested in signing Wigan's Wilson Palacios, according to the Sun. Wigan have rejected £10 million from Tottenham for the Honduran midfielder, although the Mirror says Spurs will return with a £14 million offer.
The Times reports that AC Milan are close to clinching a £7.5 million deal for Liverpool's Daniel Agger. The Danish defender's agent is in Milan for lunch with club officials with Agger set to utilize an escape clause in his contract.
The Gazzetta dello Sport reports that Milan have also reached an agreement to sign young Brazilian defender Felipe Mattioni from Gremio.
In Spain, Marca reports that Getafe goalkeeper Roberto Abbondanzieri is on his way back to Argentina to join Boca Juniors in a euros 300,000 deal.
Back in the Premier League, the Mirror says Bolton have bid £5 million for Fulham's Jimmy Bullard. Bolton manager Gary Megson also wants Benfica striker Ariza Makukula on loan.
Is Kaka worth $726,000 a week? Have your say in the Football Fanzone debate.
Posted by: CNN Digital Producer, Simon Hooper
Filed under: Football
January 8, 2009
Posted: 1122 GMT
Stay up to date with all the comings and goings in the transfer window with CNN.com's daily wrap of all the latest rumors and gossip from Europe's sports pages.
LONDON, England – Arsenal pair Cesc Fabegas and Robin van Persie could be set to follow former Gunners Thierry Henry and Alexander Hleb to Barcelona, according to the Daily Star.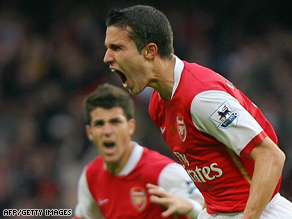 Robin van Persie, right, and Cesc Fabregas: Barcelona-bound?
The Spanish giants are preparing a euros 50 million summer swoop for the pair, the report said.
Jose Mourinho's Inter Milan are also chasing a pair of Arsenal midfielders – Emmanuel Eboue and Abou Diaby - according to the Daily Mirror and the Daily Telegraph respectively.
Inter could also make a move for Sampdoria forward Antonio Cassano and are ready to pay up to euros 18 million if Genoa continue to reject their advances for Argentine forward Diego Milito, the Gazzetta dello Sport reports. But Tuttosport says Sampdoria have already agreed to sell Cassano to Juventus.
Real Madrid's Portuguese defender Pepe says Manchester United's Cristiano Ronaldo has told him that he still wants to join him at the Bernabeu, As reports.
Villarreal goalkeeper Diego Lopez is the subject of a three-way fight between English rivals Manchester United, Manchester City and Arsenal, according to Marca.
Also in the Premier League, Manchester City have made a formal inquiry for Blackburn's £15-million valued Paraguayan striker Roque Santa Cruz, according to the Times.
Portsmouth want Newcastle's Joey Barton as a midfield replacement for Lassana Diarra following his departure to Real Madrid, the Daily Mirror says. Portsmouth are also considering Le Mans goalkeeper Yohann Pele as a longterm replacement for England No. 1 David James.
Newcastle, meanwhile, could make a move for Glasgow Rangers midfielder Barry Ferguson, according to the Guardian.
At Tottenham, Lyon's Brazilian striker Fred has emerged as a possible target as Harry Redknapp seeks a strike partner for new signing Jermain Defoe, the Daily Mirror reports. Spurs are also seeking reinforcements at the opposite end with the Telegraph reporting the club's interest in Polonia Warsaw goalkeeper Sebastian Przyrowski.
Posted by: CNN Digital Producer, Simon Hooper
Filed under: Football
January 6, 2009
Posted: 1057 GMT
Stay up to date with all the comings and goings in the transfer window with CNN.com's daily wrap of the latest rumors and gossip from Europe's sports pages.
LONDON, England – Manchester United's under-used Argentine forward Carlos Tevez placed himself squarely in the shop window Tuesday by telling the Sun that he fears he will be forced to quit Old Trafford - and adding that he would love to join Real Madrid.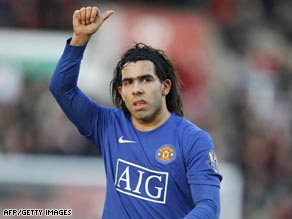 Carlos Tevez has struggled for playing opportunities this season.
"I love it at United and the fans are special to me but I also understand football," Tevez said. "If another club offered me the security of a five-year deal then I'd have to consider it."
England forward Jermain Defoe is set to return to Tottenham from Portsmouth in a deal worth £15 million ($22 million). The 26-year-old, who made the reverse move in last season's January transfer window, will undergo a medical at White Hart Lane on Tuesday, according to British newspaper reports.
The Guardian reports that Spurs are also interested in Middlesbrough winger Stewart Downing and Ghanaian midfielder Stephen Appiah, while L'Equipe claims the London club also want Brazilian striker Fred.
Barcelona midfleder Yaya Toure is the latest player to be linked with a move to cash-rich Manchester City, according to Marca. The Spanish newspaper says City boss Mark Hughes is ready to pay 26 million euros for the Ivorian midfielder.
AC Milan have offered 8 million euros for Liverpool's Danish defender Daniel Agger, the Gazzetta dello Sport reports. The Rossoneri will turn their attention to Portsmouth's in-form defender Glen Johnson - valued at 9 million euros - if they fail to land Agger.
The Times says Milan are also set to agree pre-contract terms with Liverpool's out-of-favor winger Jermaine Pennant, whose current deal at Anfield expires at the end of the season.
Aston Villa hope to agree a £4 million deal for Wigan's England forward Emile Heskey to bolster their bid to secure a top four finish and Champions League football, the Daily Mirror reports.
German striker Lukas Podolski is set to join Hamburg from Bayern Munich in a swap deal that would send Croatian winger Ivica Olic in the other direction, according to Bild.
Podolski, a star for the German national team despite rarely getting a start at Bayern, had been linked with a return to hometown club Cologne, while Manchester City, Tottenham and Roma had also been tipped as potential suitors for the 8 million euro-valued goalscorer.
But Bayern Munich chairman Karl-Heinz Rummenigge has told Bild that French midfielder star Franck Ribery is going nowhere.
Posted by: CNN Digital Producer, Simon Hooper
Filed under: Football