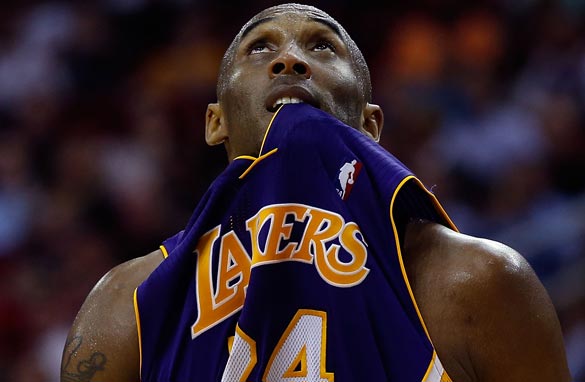 Kobe Bryant's Los Angeles Lakers have lost 20 games this season. (Getty Images)
It's hard to be a Los Angeles Lakers fan these days.
Our team, the one that was supposed to win an NBA title this year, can barely win a game. Once we talked about posting the best record in NBA history; now we openly wonder whether we'll post a winning record at all.
Still, I don't expect any sympathy.
This is what it's like to be a fan of the Lakers: You are over three times more likely to see your team win the NBA title than miss the playoffs entirely.
Almost half of our seasons have ended in June, at the NBA Finals; this year, our season could end in April. Read the rest of this entry »
Posted by: CNN International Senior Producer, Ravi Hiranand
Filed under: U.S. Sport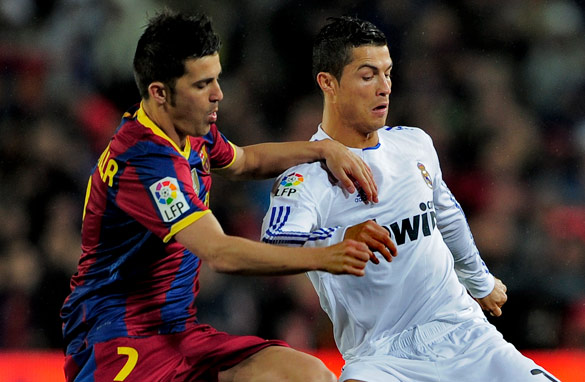 Barcelona's David Villa, left, and Cristiano Ronaldo of Real Madrid are among La Liga's galaxy of stars. (AFP/Getty Images)
Like countless football fans around the world, the highlight of my Monday was watching the Clasico: Barcelona versus Real Madrid, two of the biggest clubs in world football going head to head.
Unlike countless fans, I had to wait until 4 a.m. for kick-off ... because I live in Hong Kong. But it was worth it to see a thrilling match in which Barca crushed their Spanish title rivals 5-0.
I am the reason Real Madrid president Florentino Perez signs players like Zidane, Beckham and Cristiano Ronaldo: I'm an Asian fan passionate about European football, eager to support a club in a far-off town as if it were my own, and happy to spend my money on all the shirts, shorts, balls and related merchandise that clubs mass-produce.
There's just one problem for Mr. Perez. My heart belongs to the English Premier League's Liverpool, and I'm not alone.
Posted by: CNN Producer, Ravi Hiranand
Filed under: Football
As a Liverpool fan, it's very easy to blame George Gillett Jr and Tom Hicks for the current position of the club I love. But is it fair?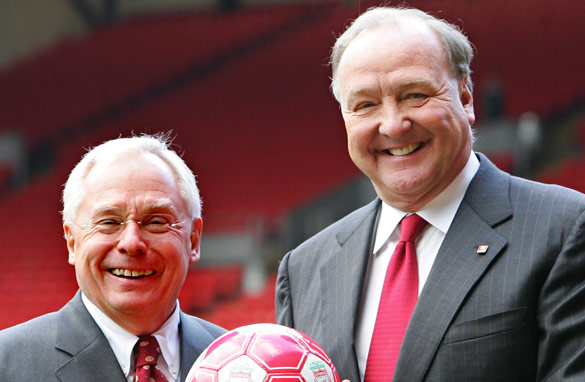 George Gillett and Tom Hicks purchased Liverpool in 2007.
Gillett and Hicks have owned the club for just over three years. In that time, Liverpool have won nothing; success in the second-tier Europa League this season would represent the owners' first trophy during their time in charge. Liverpool have been knocked out of the Champions League at an earlier stage each successive season under their ownership, and currently lie sixth in the English Premier League— well off the final Champions League spot, let alone the title race.
Soon after they took over, manager Rafael Benitez challenged them to spend big in order to catch up with Manchester United and Chelsea. That summer, they broke the club record to buy Fernando Torres. In all, they bought six players in three years for over $15 million:
Fernando Torres
Ryan Babel
Javier Mascherano
Robbie Keane
Glen Johnson
Alberto Aquilani
That is not a bad record by any means. But those big buys stand in contrast to times where the manager has not been able to spend what he'd like.
After Benitez hinted in 2007 that he'd like them to open their wallets to spend in the January transfer window, Tom Hicks lashed out publicly at his manager, telling him to "quit talking about new players".
And there are the times Benitez was told he had to sell before he could buy. The best example came in the summer of 2008: Benitez had to sell Xabi Alonso to fund the purchase of Aston Villa's Gareth Barry. Alonso's transfer to Juventus fell through — and Liverpool never met Villa's asking price for Barry. By the time Alonso was finally sold to Real Madrid the next summer, Barry had already moved to Manchester City.
Was the manager given enough financial support by the owners? It's hard to say. He's certainly had money to spend on major players, but his record in the transfer market has been criticized — Alberto Aquilani hasn't found a consistent place in the team, while Ryan Babel has endured a troubled few seasons at the club and Robbie Keane was sold just six months after his arrival. But the fact remains that Liverpool do still lag behind their rivals in the transfer market. As Benitez pointed out: United can even afford to have Zoran Tosic, a player worth $18 million, out on loan.
While it's true Liverpool have gone backwards in Europe — from the final in 2007, to the semifinals in 2008, to the quarterfinals in 2009, to the group stage this season — until this season there has been progress in the Premiership. Liverpool were 21 points behind the champions in 2007. That gap was sliced to 11 the following season. And last season was Liverpool's finest in the Premier League, pushing Manchester United right to the end of a title race that Liverpool actually led for most of the season.
It's hard to blame this season's poor performance on boardroom instability when frosty relations between Gillett and Hicks are scarcely any different to the last — and last season Liverpool finished second.
What it comes down to at the end of the day is the new stadium. Or to be precise, the lack of one. The stadium project has been revised and delayed so many times I can't find a proper timeline listing all the twists and turns it has taken. Not that it matters: the bottom line is that the new stadium does not yet exist. We have no idea when it will be built and who will pay for it. In that sense we are no further towards a new stadium than we were when the Hicks and Gillett took over — and they took over on the promise of building a new stadium.
Don't mistake me for an apologist for Hicks and Gillett. The bottom line is that Liverpool have not won anything under the two owners. Gillett and Hicks make a good scapegoat — but to blame them entirely would be unfair.
Posted by: CNN Producer, Ravi Hiranand
Filed under: Football