December 12, 2012
Posted: 1058 GMT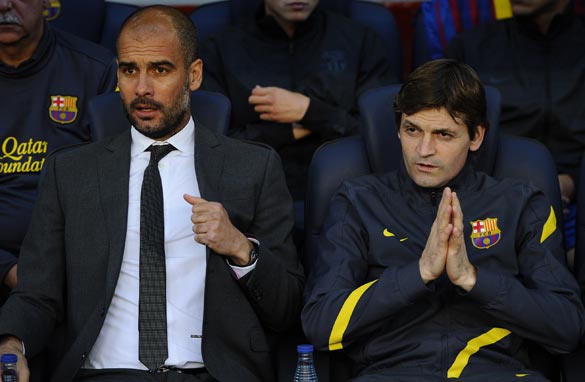 Master and the apprentice: Vilanova assumed Guardiola's mantle in June. (Getty Images)
Amid all the hyperbole that surrounded Lionel Messi's record breaking achievements in surpassing Gerd Muller's 40-year-old landmark for the most goals in a calendar year, one man has been seemingly forgotten - Barcelona coach Tito Vilanova.
Which is probably just the way Vilanova likes it.
When he took over from Pep Guardiola in June after his former boss decided to take a sabbatical from the game, Vilanova looked like he was on a hiding to nothing. In much the same way that Bob Paisley must have felt when he took over from legendary Liverpool coach Bill Shankly.
Over four years Guardiola - with Vilanova as his assistant - had won 14 trophies as Barcelona steamrollered the opposition both at home and abroad.
From the anonymity of the Barca boot room, suddenly all the pressure was on a 43-year-old man who had arguably only once come to the attention of the world's media after being poked in the eye by Real Madrid coach Jose Mourinho during a Spanish SuperCup game in 2011. Read the rest of this entry »
Posted by: CNN Digital Sport Producer, John Sinnott
Filed under: Football
September 18, 2012
Posted: 1054 GMT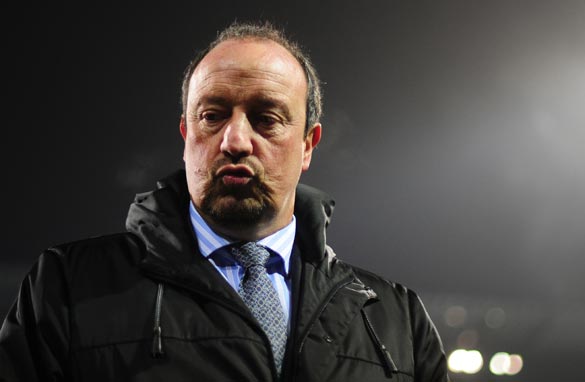 Rafael Benitez has been out of work since being sacked by Inter Milan in December 2010.
This December Spanish coach Rafael Benitez will have been out of work for two years. He has his website, plus plenty of media commitments to keep him busy, but for a coach that has been working as a manager since 1986 that must be like a living purgatory.
Like the majority of managers, Benitez gives the impression that he thinks and breathes football every minute, every hour, every day of his life.
In his new book "Champions League Dreams "  with Times journalist Rory Smith, the Spaniard, who was Liverpool's manager for six years between 2004 and 2010, provides a glimpse into the quest for perfection by describing the layout of his Melwood office at the club's training ground. Read the rest of this entry »
Posted by: CNN World Sport Digital Producer, John Sinnott
Filed under: Football
July 5, 2012
Posted: 1823 GMT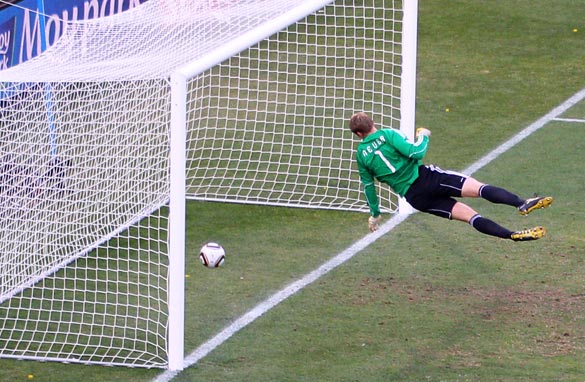 England have been involved in three notable goal-line technology controversies since 1966.
Good enough for American Football, basketball, baseball, tennis, rugby league, rugby union and cricket; good enough even for the Professional Bull Riders organization; and now finally, good enough for association football.
Following the countless pleadings of managers, players, the media and the fans after some horrendously embarrassing examples of goals that have not been given despite the ball crossing the line, FIFA is to allow the use of technology in the sport.
After years of opposition Sepp Blatter, through FIFA's law-making body the International Football Association Board has given the thumbs up, even if UEFA president Michel Platini's digit remains fiercely down as he continues to oppose this new development. Read the rest of this entry »
Posted by: CNN Digital Sport Producer, John Sinnott
Filed under: Football