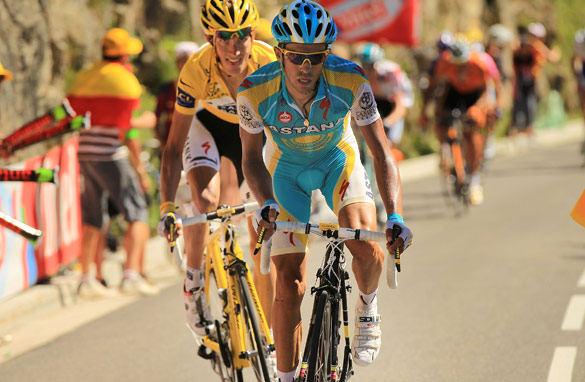 Alberto Contador leads his main rival Andy Schleck in the Tour de France. (AFP/Getty Images)
(CNN) – Arcane ideals of sportsmanship often seem out of time in a modern world of professional sport in which doping, match-fixing, handballs and controversies over referees, umpires and technology long ago clouded the Corinthian spirit to which purists still cling.
Given that cycling has long been tarnished by allegations over doping - arguably the most cynical and premeditated way in which a competitor can seek to gain an advantage over a rival - casual followers of the sport might have assumed that a sense of fair play had gone the way of the penny farthing.
Posted by: CNN, Simon Hooper
Filed under: Cycling
Although Andrew "Freddie" Flintoff and all-rounder Stuart Broad hogged many of the headlines following England's defeat of Australia which sealed and Ashes series win at the weekend, it's the captain of the home side Andrew Strauss deserves the plaudits.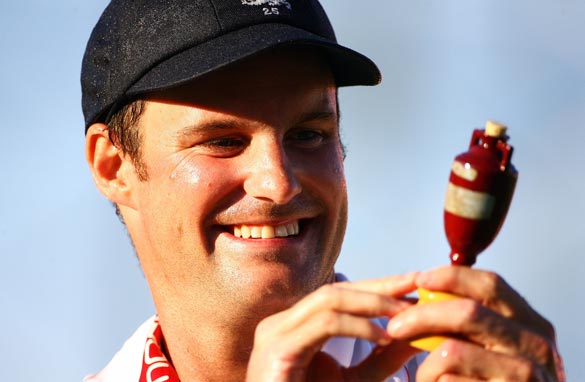 Andrew Strauss rose to the challenge of becoming captain of his country to seal an Ashes win over Australia.
It's also a remarkable turnaround in fortunes for the man I interviewed in 2006 – then contemplating the fact he had been overlooked as skipper for the Ashes series in Australia. With Michael Vaughan injured, the selectors picked Flintoff instead.
Strauss spoke diplomatically about the decision but the disappointment was plain to see from his expressions.  Further indignity was to follow, as Flintoff and his teammates were hammered 5-0 in the series while Strauss's form with the bat suffered so much that he was dropped from the national side.
Forward the clock two years and cometh the hour cometh the man – Strauss was the only candidate for captain in 2009.
Together, with England's new coach Andrew Flower (how many Andy's does a cricket side need?), Strauss has quietly and confidently absorbed all the pressure that comes with leadership.
He has allowed teammates – some of whom failed as captain themselves – to concentrate on playing their best cricket.
At the same time, Strauss's batting has never been better. He has the ability to switch off from the captaincy while out in the middle and finished this Ashes series as the top run scorer and by hitting more boundaries than anyone else.
Strauss isn't controversial but he doesn't duck tough questions or issues – he was right to suggest the current Australian side has less of an aura than in previous years despite the furor it created.
The Ashes triumph was a great achievement but their could be more to come from a captain whose glowing reputation is still growing.
Posted by: Alex Thomas, CNN
Filed under: Cricket
The signing of Arsenal defender Kolo Toure, with the prospect of at least one more top center-half being signed to partner him, marks Manchester City down as genuine English Premier League title contenders for the forthcoming season.
City appear to have been signing up every available world class striker this summer in an attempt to break the current monopoly held by Manchester United, Chelsea, Liverpool and Arsenal and there is no doubt that a forward line of Adebayor, Tevez. Santa Cruz, Robinho and Bellamy will trouble even the most resolute of defenses.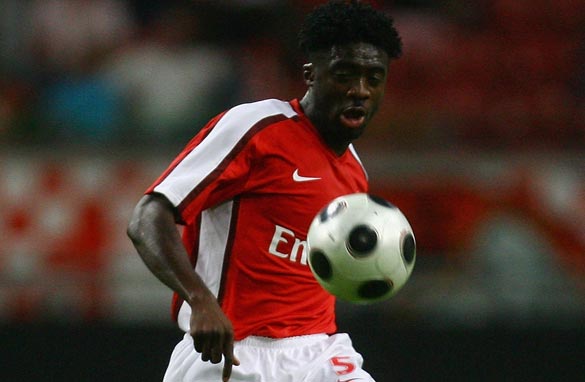 Toure's arrival marks City down as genuine title contenders.
However, the capture of Toure is even more significant.
Firstly, the signing takes away a vital player from a potential title rival.  To some experts, Arsenal are the most vulnerable of the top four clubs. Selling Emmanuel Adebayor to City was seen as good business, but Toure - as the final member of the unbeaten 'Invincibles' Arsenal side that won the title in 2004 - was a key component of Arsenal's back four and his reaction speed, athleticism and ability to read dangerous situations are as good as any Premier League defender.
And secondly, Toure's arrival addresses what was an obvious deficiency in the City set-up, that no amount of attack-minded player could solve.
Defensively, City were woeful last season. Irishman Richard Dunne, a stalwart and fans' favorite in previous seasons, was exposed for his lack of pace more than ever before, while Micah Richards - who looked destined to be an England regular for many years to come under the national team leadership of Sven-Goran Eriksson - was completely overlooked by the Swede's replacement Fabio Capello, resulting  in a worrying loss of form amid rumors of petulant behavior and disagreements with City manager Mark Hughes.
While Hughes was busy assembling his dream team strike-force, the issue of City's leaking defence remained a major concern, but the moment Hughes made his intentions to snatch England captain John Terry from Chelsea known, City immediately became genuine title contenders.
Ultimately Terry opted to remain with Chelsea, but his head was undoubtedly turned, and with the seemingly bottomless pit of Abu Dhabi money ensuring the blue half of Manchester can offer whatever it takes to make their team title contendors, then a top quality partner for Toure will not be long  in coming.
Perhaps City won't win the title this season, but don't for one moment believe they cannot challenge. Hughes has signed proven champions. Tevez won the title at Manchester United, Toure at Arsenal, Santa Cruz with Bayern Munich in Germany. These are not players who are wet behind the ears, they have a winning mentality.
The rest of the Premier League should beware.
Posted by: CNN, Greg Duke
Filed under: Football