November 15, 2010
Posted: 1005 GMT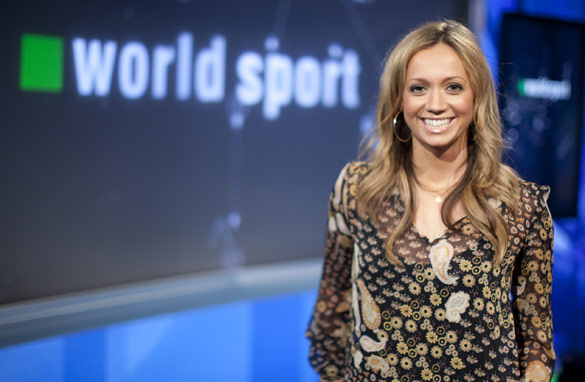 What changes would like to happen with World Sport?
You may not know, but CNN's World Sport has been on the air since 1993, and despite being in our 18th we're as keen as we were on the first day of broadcast to deliver what you, our audience, want to see.
In our time on-air we've built a reputation for speaking to biggest names in the business (Rafael Nadal, Cristiano Ronaldo, Alex Ferguson, David Haye, Lionel Messi, Kobe Bryant, Roger Federer, Lewis Hamilton in 2010 alone), bringing you the latest from the planet's top events and giving insight and analysis to the stories that make the headlines.
Recently, the program has also started to increasingly reflect how sport news is being reflected and reacted to online. So now it's your chance to have your say about how we plan to shape the show in the future as we embark on a week of conversation with the World Sport audience.
Posted by: Ben Wyatt, CNN Digital Sport Producer
Filed under: World Sport Analysis
May 19, 2010
Posted: 1904 GMT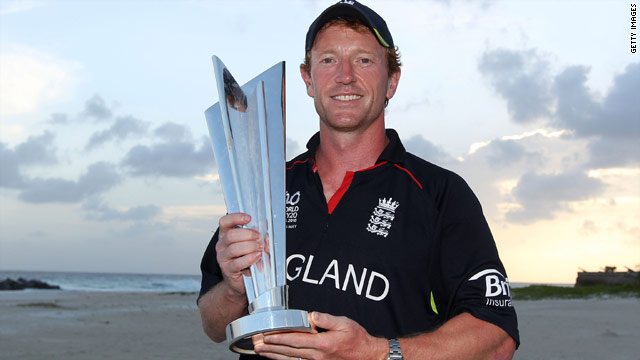 Captain Paul Collingwood proudly shows off the world 20/20 trophy after England's victory over Australia (Getty Images).
Is this really a new glorious dawn for English cricket or another false one? The exciting, fun, entertaining thrill-a-minute ride that is 20/20 cricket was first played and devised in England and now a nation not exactly noted for regular sporting triumphs on the world stage can rightly claim to be the best.
I was in Barbados for the comfortable seven-wicket victory over Michael Clarke's Australia and I have to say the English were certainly worthy winners.
Superbly led by captain Paul Collingwood and a rejuvenated Kevin Pieterson, they never looked in trouble. The squad combined experience with youth. Stuart Broad for example is an exciting prospect. It's certainly unfair and way too early in his career to label him the next Ian Botham – I'm sure Stuart himself would be the first to conceed that – but the future's bright for this nucleus of players.
Posted by: CNN Sports Anchor, Patrick Snell
Filed under: World Sport Analysis
May 13, 2010
Posted: 1837 GMT
You might think a work assignment in Saint Lucia and then onto Barbados for a spot of cricket is an out of this world gig to get for a sports reporter.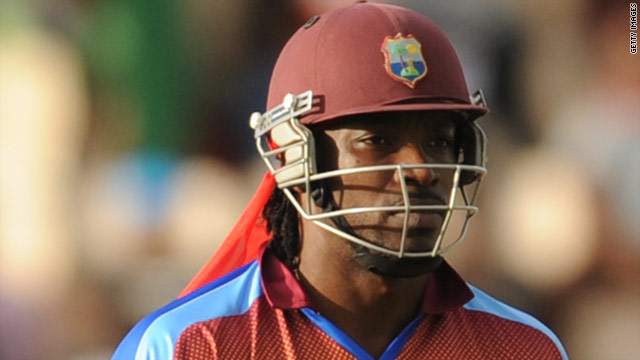 West Indies captain Chris Gayle could not prevent his team from crashing out of the world 20/20 tournament.
You certainly won't get any arguments from me on that score but amid all the thrills and spills of this exciting ICC World 20/20 tournament in the West Indies was the heartache I witnessed late Tuesday as the host nation went crashing out.
Hopes were high Chris Gayle could lead his team to the last four in what would have been a repeat of their notable success last year in England.
But it wasn't to be as the sport's former power-house nation surrendered meekly to a surging Australia, who icemented their spot in the semifinals.
Make no mistake, in this part of the world, they live and breathe cricket.
It hurts hugely among the locals here that their team won't be partaking in the tournament's latter stages and that was plain to see as thousands poured out of the Beausejour stadium after the setback against the Aussies.
Some left quietly dejected, others were vocally irate and didn't care whose ears they burned. Either way, it all adds up to show how high passions have been aroused by that initial surge of hope then the sheer pain of seeing their team crash out.
Post-match, captain Gayle reflected on a lack of consistency amongst his squad. I asked him whether committment was at all an issue, something he catagorically denies.
Windies legend Clive Lloyd joined in the debate as he ruefully reflected on a last four line-up of Australia, Sri Lanka, England and Pakistan.
This 20/20 is a hugely exciting form of the game. The fans love it and it brings a new set of skills to the players out there who smash the ball to all corners of the ground in totally unrestricted fashion.
After the disappointments and tragic events which played out during the 50-over World Cup in the Caribbean in 2007, this part of the world desperately needed something to lift the spirits and this past couple of weeks has done just that.
Just a shame for the locals here their team won't be taking part in the showpiece final at Barbados come this Sunday.
Posted by: CNN Sports Anchor, Patrick Snell
Filed under: World Sport Analysis
January 28, 2010
Posted: 2040 GMT
Let me ask you a question, is there still a place for national pride in professional sport?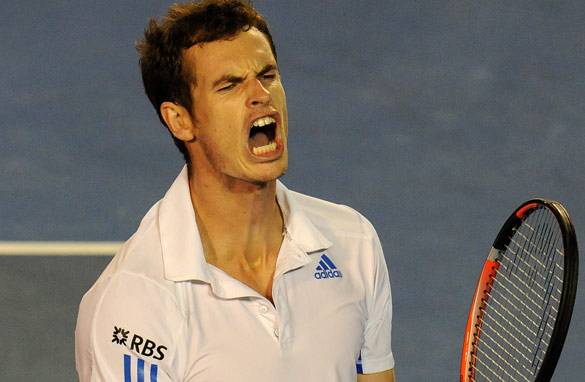 Is Andy Murray's success in the Australian Open really something for Great Britain to celebrate?
Andy Murray's Australian Open run has, once again, sparked a lot of interest in his homeland, with Brits salivating over the prospect of the nation getting its first male winner of a Grand Slam since Fred Perry in 1936.
All well and good, Murray is a Scot, and after being starved of success by their countrymen for so long it's understandable if the Brits relish having a real contender to fly the flag.
The only thing is, while his passport says "British", Murray's talents are a product of Spain, as he moved there as a 15-year-old with the specific purpose of honing his game in a system with a far better pedigree than anything on offer in Britain.
That is not a criticism of Andy. In fact it's the opposite, as he was single-minded enough to make the sacrifice of leaving his home and family in order to realize his goals. But it does beg the question as to which nation, if any, should take credit for his achievements?
Of course, Murray is not the only tennis player or indeed athlete who's gone overseas to launch or further his or her career.
In the United States, the colleges are full of foreign students who've gone to America to benefit from the superb training facilities and coaching expertise on offer in Track & Field, in which the country excels.
Still, at subsequent Olympics, World and European Championships you'll seldom hear those foreign athletes acknowledge their debt to the United States, because it's all about national pride.
But I just wonder whether all that flag-waving is really warranted, when your home country has done little or nothing to help you achieve your goals.
Football is another sport where national pride is possibly misplaced. Naturally, after this year's World Cup in South Africa, one nation will be crowing about being the best in the world.
But will that be the case, as so many of the players on display at any major international football tournament do not ply, or in some cases, even learn their trade in the country of their birth.
Don't get me wrong, I'm not against patriotism per se. I just feel it's something for sports fans to exhibit more than the athletes themselves, because in the 21st century there are no national boundaries or characteristics in the sporting world. It truly is a global village.
Posted by: CNN Sport Anchor, Terry Baddoo
Filed under: World Sport Analysis