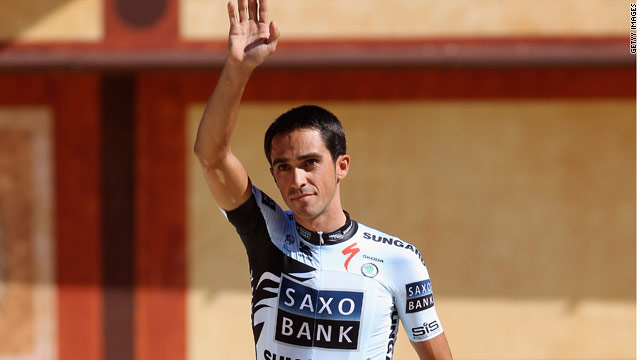 Contador received a mixed reception at the official 2011 Tour presentation.
21 stages – 3,430 kilometers - that's the challenge facing the riders at the 2011 Tour de France. No wonder it's also called the Tour of Pain! And this year, as a way of honoring 100 years of climbing the giant Col du Galibier - the participants will go up not once, but twice - with the end of the 18th stage being the highest finish in the Tour's history.
Alberto Contador and Andy Schleck are expected to be the front runners for the overall leader's maillot jeune. Read the rest of this entry »
Posted by: Candy Reid, CNN Sport Anchor
Filed under: Cycling •World Sport Analysis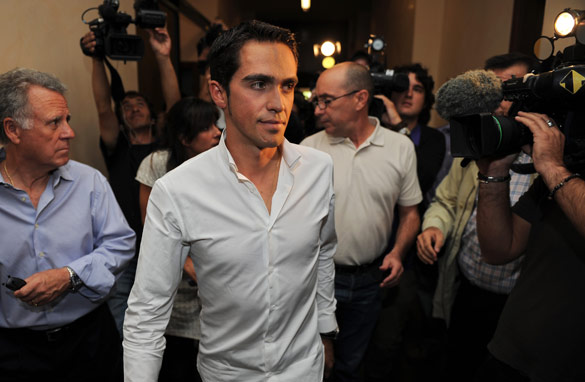 Alberto Contador tested positive for the banned substance Clenbuterol, it was revealed on Thursday.
News of Alberto Contador's positive test for Clenbuterol may have been a shocker to those of us outside the cycling fraternity, but I get the impression that it was an accident waiting to happen for those in the know.
Contador may have been portrayed as the poster boy for the new era of cycling, in which rigid testing would weed out all the cheats and eventually make doping scandals a thing of the past. But it always looked a bit like clutching at straws when your poster boy is a previous doping suspect – Contador lost his place in the 2006 Tour de France in connection with the Operacion Puerto scandal, before facing further insinuations of doping a year later, and again in 2009.
Posted by: CNN World Sport Anchor, Terry Baddoo
Filed under: Cycling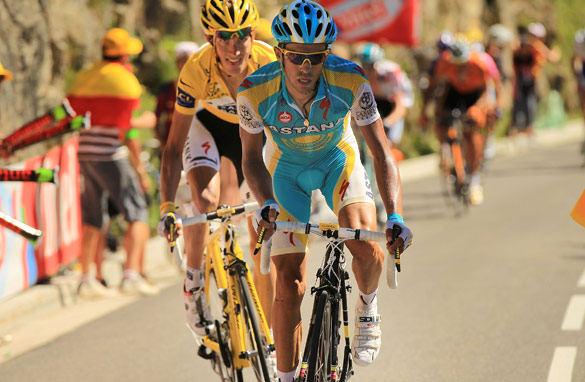 Alberto Contador leads his main rival Andy Schleck in the Tour de France. (AFP/Getty Images)
(CNN) – Arcane ideals of sportsmanship often seem out of time in a modern world of professional sport in which doping, match-fixing, handballs and controversies over referees, umpires and technology long ago clouded the Corinthian spirit to which purists still cling.
Given that cycling has long been tarnished by allegations over doping - arguably the most cynical and premeditated way in which a competitor can seek to gain an advantage over a rival - casual followers of the sport might have assumed that a sense of fair play had gone the way of the penny farthing.
Posted by: CNN, Simon Hooper
Filed under: Cycling
I'm beginning to think that the croissant I had for breakfast was a complete waste of time, such is the amount of free food and drink being offered to me by the Tour de France organizers.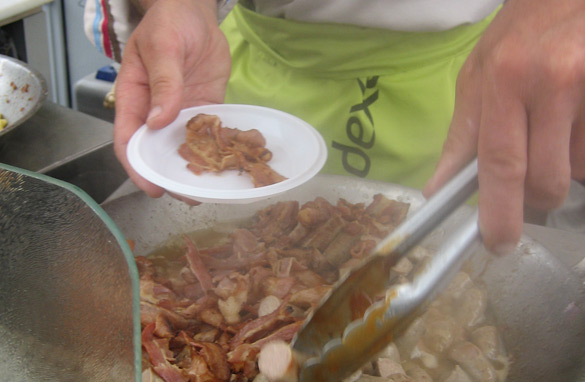 A mini-breakfast of bacon and sausage, just one of the many free food options in the Tour de France village.
Luckily enough, I have the correct 'accreditation' to enter the Tour village, prior to the 10th stage from Limoges to Issoudun and, despite the drizzly conditions, I am certainly not alone.
It is easy to see why they call it the village. I haven't located a bed yet, but there is a sufficient amount of food, drink, toilet facilities and entertainment, to provide me with everything I need should I, and the thousands of other privileged enough to have the 'golden ticket', get locked in here for the next month.
While the rank and file are being entertained by all sorts of weird and wonderful creatures who form part of the Tour de France cavalcade, I begin my feast-fest by tucking into a couple of mini-pastries.
I decline the offer of some coffee and opt out of the wine-tasting, which seems surprisingly popular considering it is only 10:30am. I am handed the French sports newspaper L'Equipe. It's a great read, for those who speak French, but as my vocabulary is limited to 'bonjour', I fear it is wasted on me.
A man is offering me fruit by the handful. I accept an orange and a little green thing which I think is a sort of plum, very nice it is too, before gratefully scooping up some sweets courtesy of our friends at Haribo.
Bizarrely, I can't find any water so I decide to partake in an apricot ice drink, which I soon realize is a huge error as my brain freezes up for a good 20 seconds.
There is a crowd gathering around a particular tent, where I notice the genial host/chef is offering up a mini fry-up of bacon and sausages. Imagine, if you will, having to create a breakfast for a doll's house...then this was it. Bacon was a bit on the fatty side, but that's just me being ungrateful for no reason.
Before I get stuck into the mini-pasta dishes, I hear a commotion. The riders are beginning to arrive and I've got to start work. With regret I leave the much-fancied diet of durum wheat to attend to business, with much food for cycling-based thought.
Posted by: CNNi, Greg Duke
Filed under: Cycling
MONACO - Driving up to the Fairmont Monte Carlo, formerly the Loews Hotel, the signs were good.
Astana team cars and vans littered the front entrance which could surely mean only one thing. Lance Armstrong was not only in town for the start of the Tour de France, but staying in the same hotel as yours truly.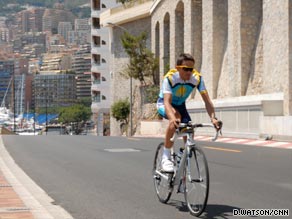 Contador getting in some final practice before the opening Monaco time-trial.
Surely it would only be a matter of time before our paths crossed, before I could flash my CNN pass and grab a quick impromptu interview or take a quick photo.  Well we live in hope.
The hotel is full of devoted Armstrong fans, all sporting the Livestrong brand clothing of their hero and all believing he can deliver a miraculous eighth Tour victory after four years away from the race.
The fans certainly have to be devoted because with beer at $10 and the same for an ice cream, a few days in the south of France for the first couple of stages will leave a big hole in the bank balance.
Hopes of a chance encounter faded as the conceirge dropped a strong hint that just maybe the seven-time  champion was staying somewhere else, away from the hullabaloo. 
Which left the open road, because most of the riders were completing their final preparations by riding the 15.5 km course for the opening individual time trial which begins the Tour on Saturday in the principality.
It will be an important indicator of who is in form for the three-week race and unusually for such a stage being held over a lumpy course as it winds its way up from the harbor at Monte Carlo.
Fractions of seconds lost on corners could prove crucial and Armstrong with his legendary attention to detail will surely be having one last look.
And yes that is the case, but standing in the square in front of the famous Monte Carlo Casino it is very easy to miss a group of fast-moving Astana team cyclists whizzing down in single file.
My partner responds to my plaintive cry  "there's Lance" by capturing the rear ends of the elite of world cycling.  Nice try, but hardly a world exclusive.
Resigned to never capturing that individual moment, away from the press conferences or the official presentation of the teams it left only a quick recee of the start and finish area in Monte Carlo's signature harbor, resplendent with the yachts of the super-rich.
The road up from the harbor rises slightly before heading under the tunnel which is part of the course for the Monaco Formula One Grand Prix. 
Mark Cavendish, the sprint sensation from Team Columbia who is set to bag a host of stage wins and is favorite for the green jersey, suddenly powers past, hunched on his tri-bars.
Then up behind pedals the now-retired Erik Zabel, many times a winner of the green jersey which Cavendish so covets. 
Ken, an ardent cycling fan from England, his wrists chock a block full of Livestrong wrist bands, no prizes for guessing who he's supporting, shouts out his name in recognition and asks for an autograph. Erik pedals on.
But this looks promising, more promising still as I spot an Astana jersey in the distance and heading our way.
More instructions to a very patient partner who fires off a volley of camera clicks. 
The cyclist moves closer. It's not Lance.
But it is Alberto Contador, the Astana team leader and favorite for the yellow jersey. He rides effortlessly by. 
Ken does not seem overly impressed by our close encounter with the man most likely to put one past his hero and this time does not bother to ask for an autograph.
Having to leave to drive north to England just a few hours later (we never did get to see Lance close up,) but Alberto will do, and he's my idea of the race winner.
Will Lance prove me wrong? Well we live in hope.
Posted by: Paul Gittings
Filed under: Cycling