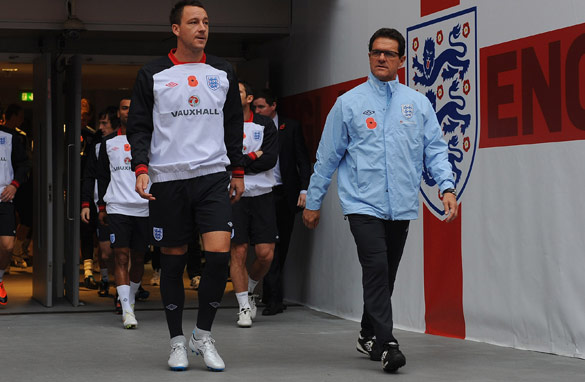 Fabio Capello had stood by John Terry despite him being stripped of the England captaincy. (Getty Images)
What is it about the England national team? Hardly a year goes by where it is not afflicted by some sort of scandal.
Whether it is caused by something a player or coach says or does, or by a decision taken by the Football Association, it seems there is always something wrong in the England camp.
Fabio Capello's shock decision to resign, after the FA's decision to strip John Terry of the captaincy, is just the latest - and certainly one of the biggest - controversies to surround the England set-up.
Obviously Capello felt he was backed into a corner by not being consulted over the decision to remove Terry, and made his feelings known in very public fashion on Italian TV at the weekend.
However, I believe English football's governing body made the right call, considering Terry is facing charges of racially abusing a black player, Anton Ferdinand, during a Premier League game last year.
Whether he is guilty or not, it is my belief he shouldn't be leading his nation into battle at Euro 2012 until his name is cleared.
Now whether the FA chiefs should have spoken with Capello before announcing their decision to the world is another matter, although it seems to me nothing would have changed their minds regardless of what the Italian would have had to say.
But there is no doubt that it has left England in a right mess, with only four months left before the next major tournament kicks off - the Euro 2012 finals in Poland and Ukraine.
So, back to my original question: Why are England constantly haunted by turbulence and turmoil? In my opinion it comes down to two factors.
The first has to do with the high expectations people in England have for athletes who represent their nation. If you put on the white shirt, you have to be close to perfect. You have to be 100% committed to the cause and you have to say and do the right things all the time, on and off the pitch.
Obviously when you are putting normal human beings on such a high pedestal, you are asking for them to fail. Especially if you consider that these guys are followed by cameras and microphones everywhere they go. Sooner or later they will make a mistake, and the press will be there to catch it.
Which leads me to the second factor – the profile of the media in the United Kingdom. It is incredibly powerful and influential, meaning they are scared of nothing and no-one.
In many countries, journalists may find out certain information that could compromise a certain player or coach, but they don't make it public because they are scared of the consequences. They know perfectly well that if they revealed a particular scandal then they would affect the relationship their publication or channel has with a particular football association or club.
Well, in England, that just does not happen. Journalists know they have the full support of their employers, and will leave no stone unturned in pursuit of the truth. They feel that they can report anything no matter how inconvenient it is, if they have the facts to back it up.
Obviously, as we saw recently with the News of the World scandal, reporters can take it too far, but by and large, they remain responsible and stick to following the ethical code of journalism.
This is why there has been, and why there will always be, so much turmoil around the England team. Considering the profile of the players, the high expectations and the power of the press, you have all the ingredients for a combustible formula which is not going to change anytime soon.
Posted by: CNN World Sport Anchor, Pedro Pinto
Filed under: Football