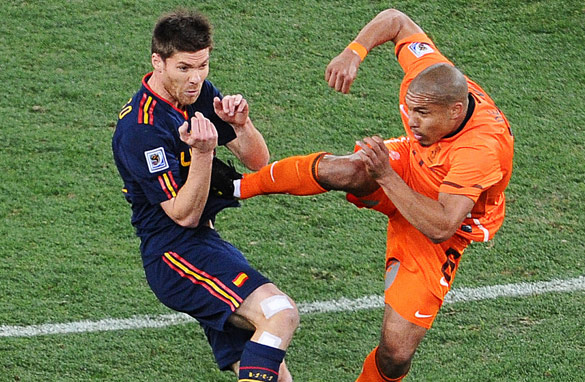 Nigel de Jong's high tackle on Xabi Alonso was one unsavoury moment in a fiery World Cup final. (AFP/Getty Images)
Atlanta (CNN) – Congratulations to Spain for deservedly claiming their first World Cup, but man, what a terrible final. It was never going to be a classic, mind you, with the Netherlands compelled to break down Spain's midfield artistry by hook or by crook - or risk being passed to death.
However, the cynicism of the Orange went way beyond what many believed they were capable of, even provoking the Spaniards into some football that was very unlike their usual renowned "tiki-taka" style.
Posted by: CNN World Sport Anchor, Terry Baddoo
Filed under: Football