April 9, 2010
Posted: 1301 GMT
As we head into the weekend The Masters has already lived up to its pre-tournament billing.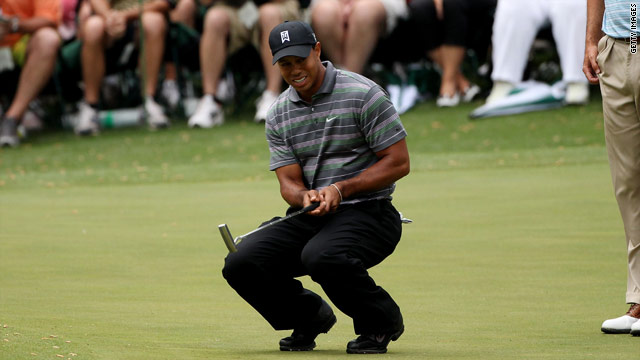 Tiger Woods could easily have shot a 64 at Augusta on Thursday.
It's my first time at Augusta and it feels like I am walking around a Hollywood movie set. The script that has been unfolding since Tiger's press conference belongs on the big screen.
On Thursday all eyes were on Tiger's much anticipated tee-off. The day ended with the world's number one shooting his lowest round on the opening day of The Masters. It was also the first time he nailed two eagles in a round at Augusta's famous course.
But even though the world's media were trained on Tiger's every move, this was far from a one-man show on what was a remarkable first day. Thirty-one players finished under par, four players aged over 50 remain in red figures and the unlikely figure of Fred Couples leads the way.
If you're wondering why Couples, who has won once here, jumped the field at the tender age of 50 you need to look at his performance on the Champions Tour, the tour for the over fifties.
He had three straight wins on his way to Augusta and he has been putting as if his life depended on it, and if you're putting well at Augusta then you're in the frame no matter how old you are.
What about Tiger? It has been vintage stuff. He was ragged in some areas but still managed to pull off minor miracles. His birdie on the 9th, after he hooked his second shot around the corner just to get to the green, left us awe struck.
He has his game face on again. It might be a new, contrite Tiger outside the ropes, but inside he's still the hungry competitor. I predicted in my previous blog he would win the Masters, and nothing I've seen has changed my mind. Had his putter been working Thursday he might even have shot a 64.
But today is another day. This roller coaster ride is bound to take more sharp turns. The tournament committee moved the tee boxes forward and made the pin positions a lot easier on day one due to expected severe weather.
It didn't come and the course was left to the mercy of the players. Friday will see Augusta bite back, and bite back hard.
Posted by: CNN Sports Anchor, Justin Armsden
Filed under: Golf
April 8, 2010
Posted: 1944 GMT
The world has heard far more inflammatory comments than Alex Ferguson's complaint that Bayern Munich acted like "typical Germans" during Manchester United's European Championship quarterfinal tie.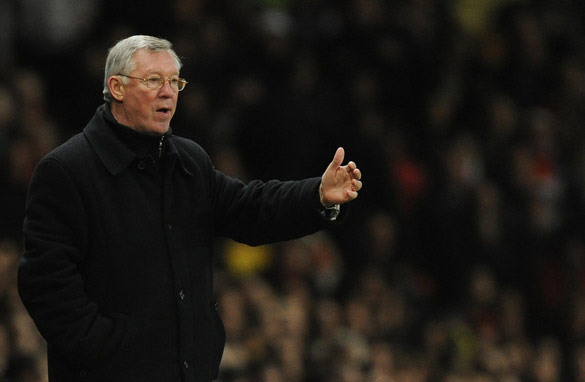 Alex Ferguson was enraged after Bayern Munich knocked Manchester United out of the European Champions League.
But those two words – in the aftermath of winning at Old Trafford on Wednesday but going out of the competition on the away goals rule - reveal so much about Britain's most successful manager.
It's impossible to explore the irony without dealing in tabloid cliche but Ferguson has never let anyone forget he's a Scotsman, despite working in the north-west of England for more than two decades.
Some Scottish fans are famed for hating the English who, in turn, are traditionally ambivalent towards the Germans.
If the old Chinese maxim was correct - that the enemy of my enemy is my friend - then Ferguson should find kinship with last night's victors. But alas, no.
So has United's boss brought Britain together in a common dislike for the ability of German football teams to get the job done?
Throw in the fact that Ferguson's main gripe was how Bayern Munich's players "surrounded the ref" and it's hard not to smile, especially given that the ref was surrounded by those well known Germans - Franck Ribery from France and Arjen Robben from Holland.
I'd bet a lot of money that Manchester United would top a poll of football fans if they were asked which English Premier League team's players surround the referee most often.
Just type "United," "Andy" and "D'urso" into a video sharing website to see how Ferguson's team are past masters at pressuring the match official.
But let me backtrack just a little. Fergie can't really be accused of xenophobia considering how many players of different races and nationalities he's embraced at Old Trafford down the years. Not many of sport's great winners like losing, so it isn't a huge surprise that he sounded so bitter immediately after crashing out of the Champions League.
Alex would dearly love to add another European title to his vast collection of trophies before retiring.
Although he likes to give the impression of not caring what others, particularly the press, think of him Ferguson craves respect and admiration as much as the next person.
He got his tactics against Bayern Munich spot on and you could argue that only Rafael's red card denied him another glorious night of vindication, proving that Alex Ferguson is just about the best in the business.
Instead, the press was left to ruminate on another victory for the Germans against the English.
And in that respect, Ferguson was right. Bayern Munich did act like "typical Germans." After all, they won.
Posted by: Alex Thomas, CNN Sport
Filed under: Football
Posted: 1043 GMT
London, England – What a week in the Champions League. Twelve goals in four matches, 10 of them scored in Barcelona and Manchester. While the brilliance of Leo Messi and Arjen Robben must be praised, it is my opinion that neither of them will lift the European Cup in Madrid this year. That honour will go to Internazionale.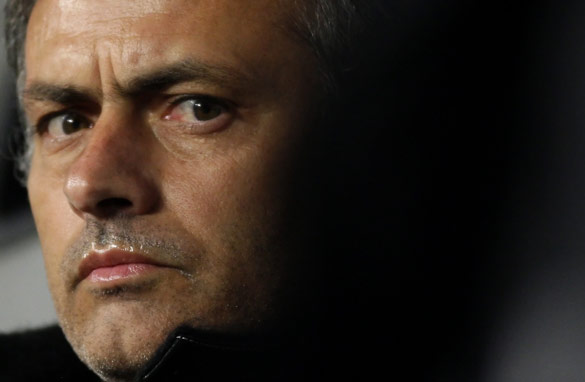 Jose Mourinho: Can he upset Barca's plans for European Champions League glory?
I expect you want me to justify my pick, and I will gladly do so.
Right now, Barcelona are the bookies favorite. Most fans around Europe, and indeed around the world, also expect the Spanish giants to become the first team to defend the Champions League title since the format of the competition changed back in 1992.
However, although I love watching Barcelona play, and believe they are the best footballing side on the planet, they will fall at the feet of Inter Milan in the semi-finals. Jose Mourinho will be a big reason for their defeat.
Recently, before Inter played the second leg of their tie with Chelsea, the Inter manager admitted to watching the first leg match seven times. He analyzed and dissected the game, coming up with a masterplan that worked marvellously at Stamford Bridge. The Nerazzuri departed London with a famous victory.
I now expect my compatriot to dig into the archives and watch two specific games a few times over: both legs of last season's semi-final between Barcelona and Chelsea. The Blues did what few teams have managed to do over the last two years, and that is to contain Pep Guardiola's mean scoring machine.
They seemed to plug all the gaps and frustrate their opponents over both matches. Of course, they were eliminated by a last gasp goal from Andres Iniesta, but for large parts of that tie, they were in control.
So look for Mourinho to design a plan to contain Messi and company. He's got plenty of physical players in midfield like Esteban Cambiasso, Thiago Motta and Dejan Stankovic and that will help his team's cause.
I don't expect a flurry of goals over the two legs, maybe only three or four - but when all is said and done, Inter will be on top.
After that, they will go on to beat Bayern Munich in the final in Madrid and win the European Cup for the first time since 1965.
Posted by: CNN Sports Anchor, Pedro Pinto
Filed under: Football
Posted: 1006 GMT
London, England – Shot in somber black and white and narrated by the gravelly voice of his dead father, Nike's latest advert showcasing Tiger Woods is certainly a departure from the affirmative, high-energy missives of old.
In golf's new era of moral austerity, it appears to herald a new approach by the U.S. sportswear manufacturer, who have stood by their man as the rest of the corporate world has deserted him.
Nike has faced a nagging problem: how can you capitalize on the intense publicity garnered by your brand ambassador without appearing to condone his many indiscretions?
Sparse, yet strangely obtuse, Nike packaged Tiger and the famous Nike swoosh into 30 seconds of contrition.
But will it be enough to convince the Augusta crowd ahead of what is arguably the most anticipated round of golf in the history of the game?
The advice dispensed by his father from beyond the grave seems oddly prescient. "I want to find out what your feelings are," he asks. "And did you learn anything?" Those questions will begin to be answered when Tiger tees off this lunchtime
What do you think of the advert? Is it timely? Or does it fail to convince you? Has Nike been right to stand by Tiger Woods? Leave your comments below.
Posted by: CNN Sports Writer, James Montague
Filed under: Golf
April 5, 2010
Posted: 1305 GMT
Once the hype over Tiger's return dies down, we can get down to the business of golf.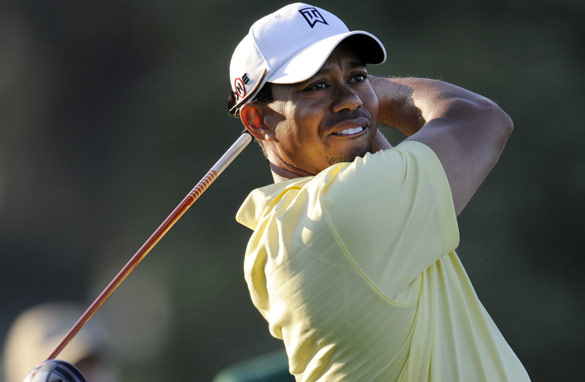 Tiger has exorcised many demons in the past few months.
And with that in mind I think he'll win Sunday to make The Masters this year the most extraordinary sporting event ever.
I love my race horses, and I liken the world number one to a thoroughbred when it comes to competing in major championships.  He is to golf what Phar Lap was to racing.
Ever since he set records in 1997 (just a year after he turned pro) for not only the biggest winning margin in Masters history (12 strokes) and the youngest winner ever at age 21, he has been consumed by winning the big titles.
Once he receives the overwhelming support of the Augusta crowd as he heads to the first tee - and it will be the most hair-raising welcome to a sportsman in history - he will be inspired to want this title more than anything.
We will see his first shot telecast around the world but after that, as per Augusta National's rules, the live broadcast will revert back to action.
An absurd decision on the club's behalf in the face of the most eagerly anticipated comeback in sporting history. It's his second shot I will be watching a lot more closely to see if he can keep his emotions in check with so much support as he walks the first fairway.  I will be on course and following it all the way.
Here's some more to think about in the debate over his potential to win: Four green jackets (two behind Jack Nicklaus); the lowest tournament score record in every major; three times a winner of every major alongside Jack, and just four behind the Golden Bears grand total of 18.
All by the age of 34, with knee injuries and a private life meltdown.
He has exorcised many demons in the past few months and his mind will be a lot freer when he heads to the tee on Thursday. I believe just as free as it was when he first teed up in The Masters as a pro in '97 before the rot set in.
And if you think Tiger might be a little rusty heading into this event, cast your mind back to 2008.
Doctors told him to rest for six weeks and not compete in the U.S. Open at  Torrey Pines.  He went ahead anyway and competed over five days, eventually winning in a 19-hole play-off on one leg over Rocco Mediate on the Monday.
He was then forced to take eight months off after surgery. It was the greatest example of a golfer pushing through the pain barrier.
He might not have played a competitive round of golf for more than five months but he is physically fit and his ability to put mind over matter is astonishing.  I have lost count the amount of times he has won playing "ugly" golf.
And I have watched numerous documentaries on Tiger where during interviews he has described how he just loves the pressure of being the man everyone wants to beat.
He says he wants to be the player under the most pressure, it's what drives him. Cue this year's Masters and it's made for him.
Tiger is really only in control inside the ropes. I spoke with Butch Harmon about the subject not long ago and Butch knows a thing or two about Tiger.
He described how Tiger flicks the switch as he heads to the first tee and nothing else matters, not even a meltdown in his personal life will stand in the way of his desire to win a major.
Just look at how quickly he has returned from his February 19 statement of "I will return to golf someday, I just don't know what day that will be."
He always knew he was coming back for The Masters. Who was he trying to kid?
Posted by: CNN World Sport Anchor, Justin Armsden
Filed under: Golf