March 8, 2010
Posted: 1039 GMT
If Landon Donovan is the key to the USA having even a half decent run in the upcoming World Cup isn't it in the interests of every member of the American soccer fraternity to have him playing at the highest level in the lead up to the tournament? You'd think so wouldn't you? But, sadly for the USA the Los Angeles Galaxy, and more specifically Galaxy head-coach Bruce Arena, think otherwise, having moved to deny Everton's request to extend his loan spell in England for the remainder of the Premier League season.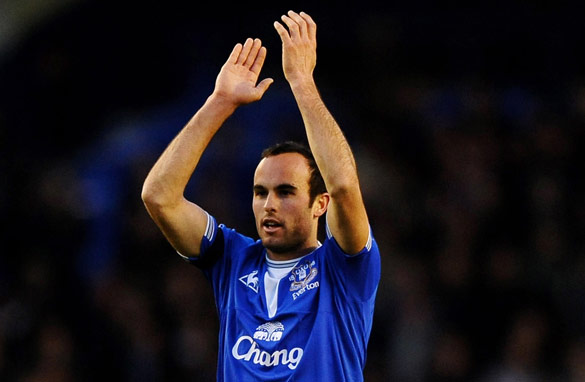 Landon Donovan celebrates scoring Everton's fourth goal in a 5-1 rout of Premier League opponents Hull. The American became a firm favorite with the fans during his short stay.
Not that Arena is acting alone in demanding that Donovan returns on March 15 as scheduled, as nothing happens at the Galaxy without the approval of the club's chief executive, Tim Leiweke. But Arena of all people, having been the boss of Team USA from 1998 until 2006, should know the chance for Donovan to stay in the zone as an integral part of the Everton squad is exactly what the USA needs to keep their captain in peak of form for South Africa.
Footballers thrive on big matches, because big matches demand the best of them mentally and physically. And if they can get the momentum going, as Donovan has certainly done during his 10-week stay at Everton, their performances usually improve exponentially. The fact is you can't replicate the pressure and atmosphere of a big match if the game doesn't fall into that category; and when compared to the 11-games he'd play for Everton in the lead-up to the World Cup, the 11 games he'd play for the Galaxy just can't compete in intensity.
Have your say on the World Cup. Click here to become a CNN Super Fan.
Obviously, he's made a commitment to the Galaxy, having signed a four-year contract extension just last December. But as his Galaxy teammate, David Beckham, realized when he sought to extend his first loan move to AC Milan, playing with the big boys can be very seductive. Beckham, of course, successfully fought to stay with Milan, and indeed won the right to return this year. Why? Because Fabio Capello said he had to be competing regularly at the top level to be eligible for the England World Cup squad. Doesn't that send a message to the USA? If Bob Bradley, the national team boss, wants Landon at his best in South Africa, he has to arrive on a high. I'd suggest that he's more chance of doing that coming from the Premier League than he does from the MLS. So, is it too much to ask the Galaxy to make the sacrifice?
Posted by: CNN Sport Anchor, Terry Baddoo
Filed under: Football
March 3, 2010
Posted: 1239 GMT
Has Russian president, Dmitry Medvedev, crossed the line with his call for some members of the Russian Olympic hierarchy to resign in the wake of Russia's poor performance at the Winter Games?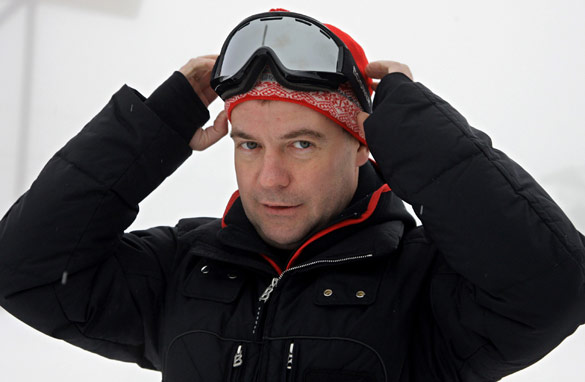 Russian president Dmitry Medvedev near the Black Sea resort of Sochi, where the 2014 Winter Olympics will be held. (AFP/Getty Images)
I'd have to say no. While government interference in sporting affairs is frowned upon or outlawed altogether, I feel that Medvedev, who's the representative of the Russian people after all, is only saying what many of his countrymen are thinking.
Russia has continued its steady Olympic decline by posting its worst ever tally at a Winter Olympic Games with just 15 medals, only three of which were gold. Medvedev is naturally outraged by the sub-par performance and clearly believes in accountability.
With the Russian city of Sochi set to host the next Winter Games in 2014, I would have thought a pre-emptive strike by Medvedev is perfectly justified in order to arrest the slide and prevent a repeat showing in four years time, which would be infinitely more embarrassing on home soil.
What's more, he's been constructive, suggesting that the emphasis is no longer placed on the wants and needs of the men in gray suits in the upper echelons of Russian sport but on the young guns in tracksuits, that is to say the athletes who ultimately make the sacrifices and bring home the glory.
Such re-prioritizing is nothing new among sporting nations. Indeed, government interest in sport is often welcomed, because it usually carries with it some funding.
Of course, no one wants political involvement to extend to the level it did in Iraq for example, where Uday Hussein dictated sporting policy with a brutal fist of iron. However, that was government meddling at its most extreme, and there's a lot of ground between dictatorship and what Medvedev is suggesting, which could be beneficial to all concerned.
So why the negative reaction to Medvedev's comments? Well it's obviously because his words invoke memories of the Soviet Union when Soviet sport was rife with corruption and was used first and foremost as a vehicle for political propaganda.
Now though, times have changed. While he acknowledged that Russian sport has lost something since the old Soviet days, I think some are too ready to read something sinister into that.
To my mind, he simply said, "We were good, now we're not, let's do something about it." And, at the risk of sounding naïve, I can't, as yet, see anything wrong with that. But perhaps you can tell me different.
Posted by: CNN Sports Anchor, Terry Baddoo
Filed under: 2010 Winter Games
March 1, 2010
Posted: 2319 GMT
If you watched Sunday's closing ceremony of the just concluded Olympic Winter Games, you saw a mix of humor and humility. Canadians, known for poking fun at themselves, did plenty of it during the two-hour show from BC Place in downtown Vancouver. From actor and commercial pitchman William Shatner rising from the center of the stage to proclaim, in his own special way, that he's proud to be Canadian to the huge floating moose that circled the arena from high above, the closing ceremony had it all.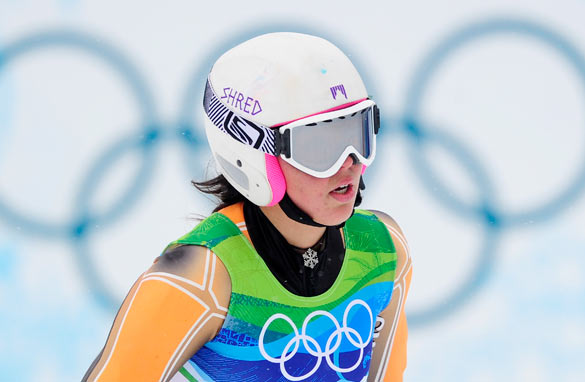 Noelle Barahona on the snowy slopes of Whistler near Vancouver. (AFP/Getty Images)
Amid all the joyous mayhem that ensued in the wake of the terrific 17-day sporting festival, there was one Olympian taking part in the Vancouver Games finale who could be excused if her mind was elsewhere.
Chilean alpine skier Noelle Barahona almost missed the ceremony. If it wasn't for the fact that she couldn't get a flight back to her homeland earlier in the weekend, Barahona would have already been back on South American soil.
While Barahona and the small Chilean delegation prepared to close out the final weekend of the games, a deadly earthquake shook their homeland to its very core. The news spread north and the rush to the airport was on. When Barahona learned that family members, many of whom accompanied the skier to Vancouver, and friends in her native Santiago were fine, Noelle decided to take part in the closing extravaganza.
Barahona was the only Chilean athlete to walk into BC Place with her fellow Olympians. Chile's two other athletes, both alpine skiers, had already left Vancouver as they had previously planned.
The night gave Barahona a chance to catch-up with and say goodbye to the many friends that she made during her stay in the athletes village. It allowed the skier to reflect on her Olympic experience. It also, for a few short hours, gave the Chilean a chance to enjoy her remaining hours in Canada before making the trip south and into the unknown.
Life for Noelle Barahona was surreal, on many levels, here at the Vancouver Winter Olympics. Returning to life in an earthquake ravaged country will likely be the same.
Posted by: CNN Sports Anchor, Mark McKay
Filed under: 2010 Winter Games
Posted: 1046 GMT
It's always hard to be objective when you have "worked" an Olympics - lived and breathed every day of it, on the ground, from the inside - but I believe this was a great Winter Games.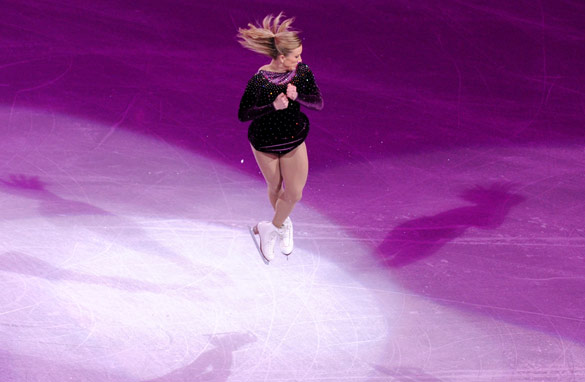 Canadian figure skater Joannie Rochette overcame the death of her mother to take the bronze medal (Getty Images).
The fact that Vancouver 2010 got off to such a difficult start actually worked in its favor. After days of rain, controversy and tragedy the mood slowly improved - and felt all the more satisfying for the turnaround.
Why did it change for the better? Well, to manipulate that overused political slogan: "It's the sport stupid!"
Yes, the ever-increasing commercialization of the Olympics is an irritation and, yes, we in the media can be guilty of exaggerating both successes and failures.
However, the Games are still inspirational, and when you peel back the layers you're left with the individual stories of courage, determination and excellence which make sport, generally, and the Olympics, in particular, so compelling.
In case you missed them, here are my favorites:
Petra Majdic won a bronze medal after skiing more than five kilometers cross country with broken ribs and a punctured lung. She had injured herself during a fall in training, but refused to take a pain killing injection before the race because it would hinder her movement and she was desperate to win Slovenia's first medal in the event.
Canadian figure skater Joannie Rochette somehow found the focus to claim a bronze medal just days after her mother died in Vancouver General Hospital following a heart attack. Therese Rochette had come to the city to watch her daughter compete. Joannie, still stunned by the sudden loss of her mum, earned an emotional place on the podium.
He's broke, a recovering alcoholic and has tried to commit suicide on more than one occasion, but American freestyle skier Jeret "Speedy" Peterson conquered all of his personal demons to take the silver medal in the aerials competition.
Kwame Nkrumah-Acheampong, Ghana's "Snow Leopard," put a smile on everyone's face. With echoes of Jamaica's bobsled team and ski-jumper Eddie "the Eagle" Edwards, the former indoor ski center worker rightfully claimed his place among the Winter Olympians here - and successfully negotiated two runs in the men's slalom.
There were more than two-and-a-half-thousand athletes at these Vancouver Games and there are many other stories, not to mention one of the most exciting hockey matches of all time. Before I came to Canada for the first time I said I didn't "get" (ice) hockey. I do now.
I also got the experience of a lifetime - not a cliché, a fact. Every Olympics is unique and inspirational, and this one has been no exception.
Posted by: Alex Thomas, CNN Sports Anchor
Filed under: 2010 Winter Games