January 5, 2010
Posted: 1655 GMT
By ruling in favor of Flavio Briatore and Pat Symonds in their appeal against bans for the 2008 "Crashgate" scandal, the French courts have essentially rendered the Fédération Internationale de l'Automobile (FIA) impotent. The FIA is the governing body of motorsport, so how can it possibly have exceeded its authority, as the court stated, by banning the pair? If the sport's governing body doesn't have the power to include or exclude whomever it wants from its own competitions, what's the point of having a governing body? Isn't regulating the sport its sole raison d'etre?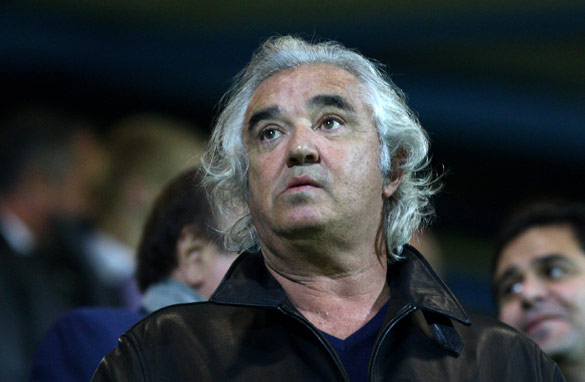 Flavio Briatore contemplates his future.
Nowadays, almost every sporting dispute you care to mention goes to appeal. But in the past, at least the ultimate arbiter has been a sporting entity - the Court of Arbitration for Sport. In this case, however, the sporting judgment was trumped by the law, rendering the FIA and its new president Jean Todt essentially powerless.
And, while we're at it, how did this happen? FIFA, for example, will not countenance government or state intervention in the running of football, and bans associations where external tinkering is suspected. It is subject to no courts for doing this. Yet the FIA has been walked all over by the French judicial system. And, besides a half-hearted threat to launch its own appeal to delay Briatore's return to motorsport, it appears to be taking the judgment lying down.
And it's not only the FIA's right to make decisions that has been usurped, it's also the decision itself. Briatore appealed the ruling on the grounds that a) he wasn't guilty of ordering Nelson Piquet Junior to deliberately crash his car at the 2008 Singapore Grand Prix, and b) even if he was found guilty, the punishment didn't fit the crime as the severity of it reflected his tense relationship with then FIA president Max Mosley.
So, by ruling in Briatore's favor, the French courts have issued the FIA with a double whammy, saying its disciplinary process is flawed and its judgment is subjective rather than objective, and therefore not impartial.
If I were Todt, I'd take real exception to that, even though he didn't preside over the case, as it's damning of the very institution and office to which he was appointed. Guilty or not, and who knows the truth, Briatore and Symonds received a hearing and judgment in the court of their peers. Unfortunately, after Briatore and Symonds "lawyered up", that decision wasn't binding. And, to my mind, that sets a dangerous precedent.
Posted by: CNN Sports Anchor, Terry Baddoo
Filed under: Motorsport
January 4, 2010
Posted: 1623 GMT
The start of a new decade is a romantic time for many, bringing forth hopes of renewal, rebirth and change. Optimism - that hindrance could be transformed into release, that obstacle could be overcome by opportunity and that historical grievance could be replaced with agreement - reigns supreme in the minds of millions around the world.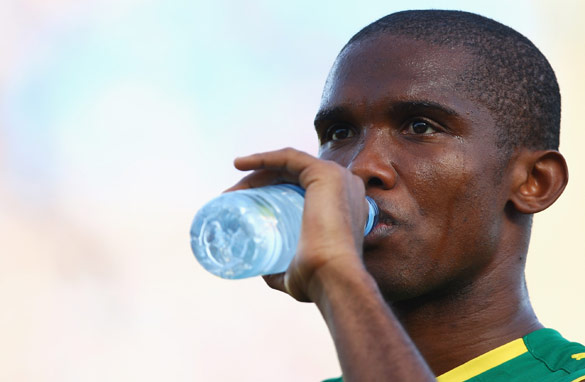 Samuel Eto'o joined Cameroon on time despite the protestations of Jose Mourinho.
The New Year brings hope to many, though not this year to the minds of European football's top club coaches one would imagine. This is because, within 10 days of the recycling of the calendar, a familiar recurring nightmare has revealed itself to a young 2010 to dispel any remaining celebratory zeal - namely the Africa Cup of Nations.
It is not so much the tournament itself which causes despair to those charged with capturing glory for their clubs, more the timing of the event and the logistical problems it presents.
The tournament - which starts on January 10 in Angola - is traditionally played during January and February in a bid to avoid the impossible heat or heavy rain of the continent at other times of the year; so say the Confederation of African Football (CAF). A convenient time for those participating but highly inconvenient if, like most European fixture lists allude to, the fight for domestic honors moves into a crucial phase.
To make things worse, the Nations Cup has long since been a competition which involves players known only to local audiences, Africa currently boasts some of the finest footballers to be found on the planet, most of whom will be taking part at this year's edition in Angola. Which leaves European coaches with a problem - how do you replace the irreplaceable?
Consider finding fill-ins for the following first eleven: Didier Drogba (Chelsea / Ivory Coast), Samuel Eto'o (Inter Milan / Cameroon), Obafemi Martins (Wolfsburg / Nigeria), Sulley Muntari (Inter Milan / Ghana), Yaya Toure (Barcelona / Ivory Coast), Seydou Keita (Barcelona / Mali), Alexandre Song (Arsenal / Cameroon), Joseph Yobo (Everton, Nigeria), Kolo Toure (Manchester City, Ivory Coast), Taye Taiwo (Marseilles / Nigeria), Carlos Kameni (Espanyol / Cameroon).
Coaches, in an seemingly biennial ritual, line up to moan and whine about how the tournament depletes their resources and hampers progress. The release of the top names to play for their country is also a subject that incurs much negotiation and consternation, Inter's fight to delay Eto'o flying out to join Cameroon being a recent example.
But why should the Africa Cup of Nations be treated in any different way to other confederation tournaments? Coaches are well aware of the nationality - and commitment - of the players they sign, so what right do they have to complain about an athlete wanting to represent his country?
Surely, the Nations Cup and the participation of the teams and players who have qualified should be respected in the same way as those wishes of soccer superstars who participate in the European and South American version of the event.
Whether the tournament should be played in the same year as the inaugural "African World Cup" - where the potential for top players to be overworked seems inescapable - is another matter ...
Posted by: Ben Wyatt, CNN Digital Sport Producer
Filed under: Football
January 2, 2010
Posted: 1910 GMT
Tradition has it that the holiday program in the English Premier League pretty much sorts the men from the boys, going a long way to determining who earns what come season's end. So what's the state of play?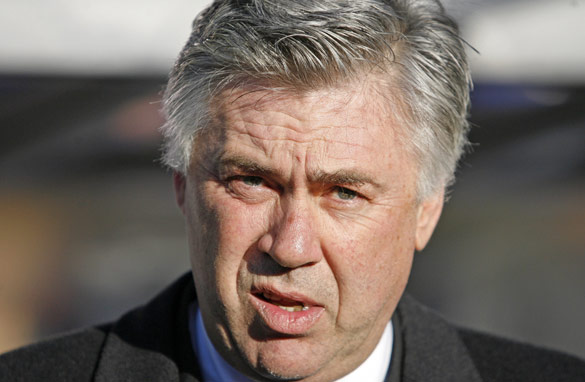 Can Chelsea manager Carlo Ancelotti win the English Premier League title in his first season in charge?
Chelsea ended the year on top of the table, but their two-point lead on second-placed Manchester United looks tenuous after they took only five hard-earned points from a possible nine over the holiday period. The good news for the Blues is that owner Roman Abramovich has been able to get them financially stable so that Carlo Ancelotti can dip into the transfer market in January if need be.
And he should, because he needs a goalkeeper to cover for the erratic Petr Cech, and maybe a central defender to give some relief to John Terry and Ricardo Carvalho. The bad news, of course, is the loss of four players to the African Cup of Nations at a time when Chelsea need to consolidate their lead. That said, the four matches that Didier Drogba, Salomon Kalou, Michael Essien and Jon-Obi Mikel could miss in a worst-case scenario are only against Hull, Sunderland, Birmingham, and Burnley. And any team with designs on the title should fancy their chances of taking at least nine points from those fixtures.
Like many, I tipped Chelsea for the title pre-season, but I'm starting to wonder if it's Manchester United's year again. After a 3-0 drubbing at Fulham, Alex Ferguson may well have cancelled Christmas because his boys put that leaden performance behind them, bouncing back to beat Hull and Wigan convincingly. All the same, I believe they do need some January reinforcements in the form of cover at the back for the injured Rio Ferdinand and the injury-prone Nemanja Vidic. They also need a reliable second keeper who's not overawed like Ben Foster, and someone to share goalscoring duties with Wayne Rooney, because Dimitar Berbatov's hardly prolific and Fergie seems reluctant to start Michael Owen. An injury to Rooney and they could be looking at only a podium finish.
Okay, I'm biased, because I'm an Arsenal fan, but if any team upped the ante during the holidays it was the Gunners. Three games, three wins, all of them by a margin of three goals. Father Christmas gave Arsene Wenger everything on his wish-list this year. And, in a month when Aston Villa provide the only obvious stumbling block, Arsenal could possibly be looking down on Chelsea and Manchester United by the time they meet the Red Devils at home on January 31. However, I still think they need to invest in a proven striker.
And what of that other North London side – Tottenham? Well, seven points from a possible nine over the holidays shows Harry Redknapp's men have the mettle to push on. And, if Jermain Defoe continues in the form matched only by Drogba and Rooney in the Premier League, I can certainly see Spurs ending the season in the top four. Though January will be key, with Liverpool, Fulham, and Birmingham certainly equipped to test the Lillywhites.
Which club can deny any of the above a top-four finish? Well, Aston Villa need a quick fix if they're to make it happen after losing two of three holiday games. While Manchester City's three-game winning-streak in the league has to be put in context, as the players were out to save former boss Mark Hughes in the first of them, and hoping to impress new manager Roberto Mancini in the last two. What happens when the shine wears off will be the determining factor.
As for Liverpool? Well, two straight wins following abject failure at Portsmouth has at least hushed talk of a crisis at Anfield. But the Reds have been so erratic this season, who knows what to expect next? But with the exception of a game with Tottenham, the fixture list has been kind to Rafa Benitez in January, as Stoke, Wolves and Bolton should not be insurmountable obstacles, depending on which Liverpool team shows up.
So that's how it looks at halfway in my opinion. Too tight to call I'd say. Unless, of course, you know different.
Posted by: CNN Sports Anchor, Terry Baddoo
Filed under: Football