August 11, 2009
Posted: 1124 GMT
It almost went down as the year of the comeback but Michael Schumacher's decision to cancel his return to Formula One means 2009 will now be remembered as the season of great sporting anti-climax.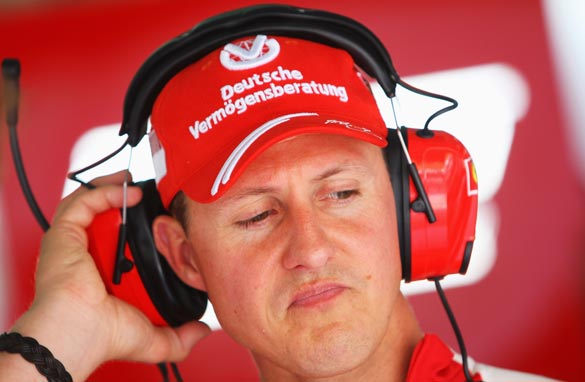 Schumacher has been forced to call off his eagerly-awaited return to Formula One.
First, there was 37-year old Lance Armstrong returning to Tour de France action after a gap of four years. He gave race favorite Alberto Contador a huge scare before settling for third place overall – an astonishing performance but not the fairy tale many had hoped for.
Then, Tom Watson made us all feel young again by swinging his way to the top of the leaderboard in The Open championship. At 59 years of age, and with two replacement hips, he defied expectations until the final hole of the final round when time caught up with him. Second place was good but not great.
Now, Michael Schumacher has denied us the mouth watering sight of a motor racing legend taking on the best of the next generation.
Formula One world champion Lewis Hamilton had never raced against Schumi and the German was a hero to countryman Sebastien Vettel and a host of other young drivers in the sport.
But they may never get the chance to pit themselves against F1's most successful ever driver after the 40-year old said the neck he injured in a motorcycling accident won't stand up to the rigors of a grand prix.
Pity Ferrari didn't check Schumacher's health before announcing his comeback, unleashing a storm of publicity and surge in ticket sales for the next race in Spain. Did the great man really want to turn back the clock, or simply wind us all up?
For those of us still hoping for a nostalgic twist to the European summer, our last remaining hope is Mark Ramprakash. Although he'll be 40 next month, the Surrey batsman is in contention to play for England in the deciding test match of the current Ashes series.
One last chance for a veteran triumph instead of a geriatric damp squib.
Posted by: Alex Thomas, CNN Sports Anchor
Filed under: Golf
August 10, 2009
Posted: 1412 GMT
In the run-up to the new season, Bayern Munich may have been tipped favorites for the title, but they did little to prove why in their season-opener on Saturday.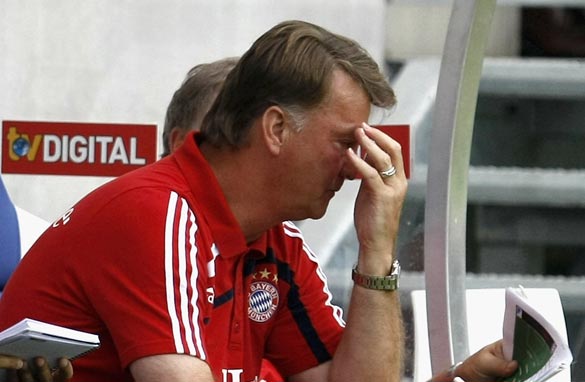 Worried Bayern coach Louis van Gaal watches his side's Bundesliga opener.
After their second trophy-less season in three years, Bayern decided to spend big (by Bundesliga standards at least) and splashed out over $70 million on new recruits – all the while failing to cover the side's weak spots in defense and goal.
Bayern Munich President, Franz Beckenbauer, has called the team "the best Bayern squad of all time". But the team's performance on Saturday painted a different picture.
Playing away to Hoffenheim, a side entering just their second season in the German top flight, Bayern appeared to struggle for long periods of the game.
Hoffenheim should have gone ahead early on – if it weren't for a glaring mistake from the referee.
The visitors' only goal came against the run of play, with Hoffenheim pulling one back not too long after.
In short, the hosts were fresher, faster and more fired-up. Bayern may have improved in the second half, but they were fortunate to come away with a point at all.
Some might argue the Bavarians were bound to be below-par due to the absence of injured playmaker Franck Ribery, and strikers Luca Toni and Miroslav Klose.
But with the transfer window still open – and other clubs keenly eyeing-up both Ribery and Toni – their absence could yet become a permanent fixture.
Since his arrival at the club, Ribery's presence on the pitch has been pivotal to the club's success. The French playmaker has been one of the hot topics on this summer's transfer markets, and Europe's top clubs have all shown an interest.
Bayern insist he's not for sale, but rumors persist. The club could be left with little choice if Ribery hands in a transfer request – once he's picked up his Bayern loyalty bonus on August 14th, of course.
The Bavarians' top scorer for the last two seasons, Luca Toni, could also be on his way out of the Bundesliga. Premier league sides West Ham and Tottenham Hotspur are both said to be lining up to start the bidding.
Out of favor with coach Louis van Gaal, but a personal friend of West Ham manager Gianfranco Zola, his departure looks to be a near certainty.
After signing striker Mario Gomez, a prolific scorer in the Bundesliga for former club Stuttgart, Bayern aren't likely to be too concerned. But Gomez still has to prove he can perform when the stage is bigger and the pressure greater.
At his first opportunity, he made a less than convincing start. Ahead of the season-opener, van Gaal said his side will need time to find its best form this season. Saturday proved him right.
Posted by: CNN Sports Anchor, Kate Giles
Filed under: Football
August 4, 2009
Posted: 1831 GMT
I really do hate being the bearer of bad news but it's hard to avoid in the world of professional golf at the moment.
When I learned from a source in the golf industry that the prize fund was to be cut in the Race to Dubai, the European Tour's $20 million pot of gold it put on offer in 2007, I was hardly surprised.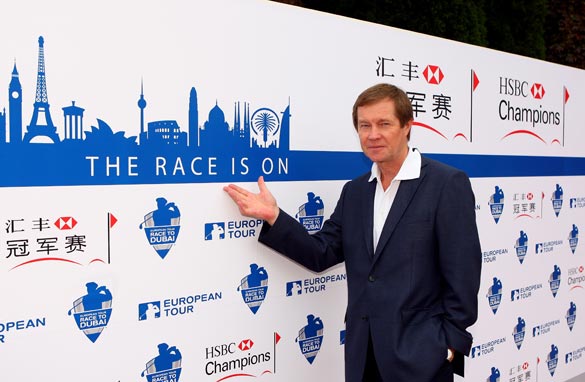 The Race to Dubai has not turned out as George O'Grady had planned.
Leisurecorp, the company behind the original concept, has pretty much been taken over by parent company Nakheel - which is more concerned about taking care of its debt than a glamorous golf event.
I think European Tour CEO George O'Grady, whom I have met and interviewed several times and found to be an extremely intelligent and dedicated man, must be seething.
The initial deal was for the Race to Dubai to be locked up for a minimum of five years with an option to extend – it was a defining moment for the European Tour.
They had the world's richest golf tournament in the palm of their hands!
Finally, the Tour had some serious clout in order to attract big name players to the circuit away from the PGA in the U.S., but it all banked on Dubai sticking by its agreement - which all looked good before the credit crunch hit home.
The Tour re-branded itself on the back of the deal and moved its international headquarters to Dubai.
But now O'Grady will announce a serious back track after months of negotiations failed to get Nakheel excited about pouring such vast sums of money into a sporting event.
Leisurecorp has hemorrhaged – it has laid off staff, reduced prize money at another tournament it runs (the European Open) and its property portfolio in Dubai is in the dumps.
The Race to Dubai was another example of the Emirate wanting to put its name on everything where they could boast was the biggest and the first – but sadly on this occasion it hasn't worked and many people in the wider game of professional golf will be hurting for a long time.
Posted by: CNN Sport Anchor, Justin Armsden
Filed under: Golf
Posted: 1039 GMT
The challenge laid down by golfer Greg Norman at last year's British Open - who aged 53, led the tournament after fifty four holes –  has not only been continued, but is growing into a defining trend for 2009.  The "old-timers" can no longer be seen as anything other than true contenders it seems, as a raft of returning champions have proved.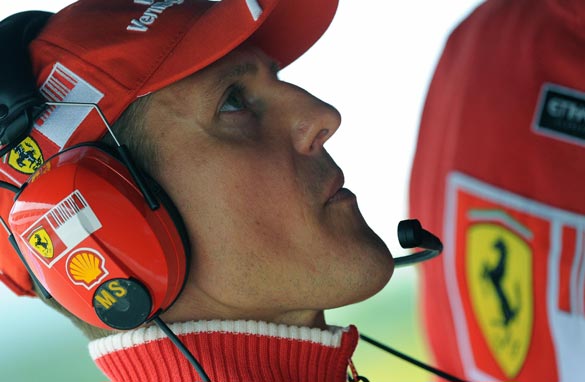 Schumacher has shocked the world of sport with his return to Formula One at the age of 40.
If Norman had led impressively before fading, the achievement was put into the shade by 59-year-old American Tom Watson at this year's event.  Watson had one hand clasped firmly around that famous old Claret Jug,  such were his heroics at the event.  He would have won it too had he given his putt at 18 a chance but as he later conceded, the pressure and sheer emotion involved affected his stroke at a time when he needed it most and Stewart Cink would go on to prevail.
Watson's efforts at Turnberry defied the odds but what stuck in the memory were his comments all the way through the tournament- that he felt he had the game to win. That is it in a nutshell. The inner self-belief is still there. No doubts at all in his mind he could win at just shy of his 60 birthday. Watson already has eight majors including five Claret Jug titles - why not try and win another? As the legendary Jack Nicklaus told his compatriot- "just get out there and win one for the old folks!" He must have been desperate to prove to himself he could still do it and that age should be no barrier and he came so close to doing just that.
The rejuvenation of older stars like Watson is a joy to behold and it's not just in golf that those of retirement age are still up there with the best. At 37, Lance Armstrong appears to still have a strong desire to not just compete but to win too. His post Tour de France spat with this year's winner Alberto Contandor had everyone licking their lips in anticipation of next year. Like Watson, Armstrong still clearly believes he's good enough to be the best again. I can just imagine him surveying the rest of the field during his "retirement" and thinking there was still plenty of room for him at cycling's toughest annual challenge. Just the fact he's going to be back in 2010 confirms that view in my book.
At the ripe old age of 40, Michael Schumacher's return to the top of Formula One is probably for me at least the most surprising. Yes, the Felipe Massa injuries have played a part, but did anyone at Ferrari have to force his hand? Schumacher's been champing at the bit to get back into that cockpit. Once it's in your blood, it's in your blood and don't rule one the ferociously competitive German triumphing again before the end of the current season. Even Massa doesn't want Schumey to get too comfortable in his seat after jokingly telling him he'll be back in no time!
Whatever Schumacher's performances are like in the coming weeks, one thing is very clear …. He very much like the other "old timers" wouldn't still be competing if he didn't believe he could win.
Merely making up the numbers simply isn't his style.
Posted by: CNN Sport Anchor, Patrick Snell
Filed under: Golf