June 11, 2009
Posted: 1709 GMT
So Cristiano Ronaldo is going to Real Madrid after all.
After months, dare I say years, of speculation, the Portuguese international is finally leaving Old Trafford. I was expecting my compatriot to go to the Bernabeu, and I predicted as much in a recent blog, but I am still surprised the offer was accepted so quickly.
I am also surprised that Florentino Perez has pockets deep enough to go for Kaka and Cristiano in the same week! We're talking about spending over $200 million on both players.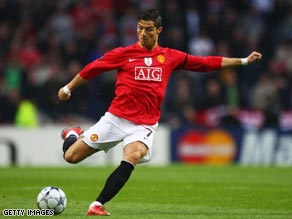 Ronaldo seems certain to be wearing the white of Real Madrid next season.
As far as how much he is worth, $130 million is an astronomical fee, but if Ronaldo were going to move, the transfer deal was always going to be a world record.
I mean, if Kaka went for $90 million, then the reigning FIFA World Footballer of the Year would command a larger sum. That makes sense. Whether any human being is worth that much, that is a whole other question. Especially in this current economic climate.
This transfer represents a significant loss not only for Manchester United, but also for the Premier League. From a sporting and financial point of view.
It would be fair to say that Ronaldo has been the competition's most recognizable and marketable star around the globe in the last few years and league officials will be disappointed that they won't be able to use the Portuguese star to sell their brand anymore.
England's top flight generates more revenue than any other, but if losing a player of Ronaldo's magnitude will surely affect their future broadcasting deals. With the 24 year-old winger gone, Premier League officials will now try to increase the media appeal of other stars like Wayne Rooney, Frank Lampard and Fernando Torres.
For Spain's La Liga, it's a unquestionably a coup and this move could signal a shift in power in the world of football. In recent seasons, England have dominated the transfer market with its top clubs attracting the globe's top players.
With Ronaldo following Kaka to the Bernabeu on the back of Barcelona winning the European Cup, the spotlight has shifted to Spain. A trend that will continue? If Real continue to spend, with David Villa rumoured to be their next target, it's indeed possible. England could even be overtaken by Italy with Inter and AC Milan ready to dish out the cash.
Watch this space...
Posted by: CNN Sport Anchor, Pedro Pinto
Filed under: Football
Posted: 1323 GMT
The countdown is on the front page of every South African newspaper. Day by day a little banner with the FIFA 2010 logo reminds the readers that the clock is ticking. A giant electronic clock in OR Tambo Airport reminds travelers too that there is now less than a year to go.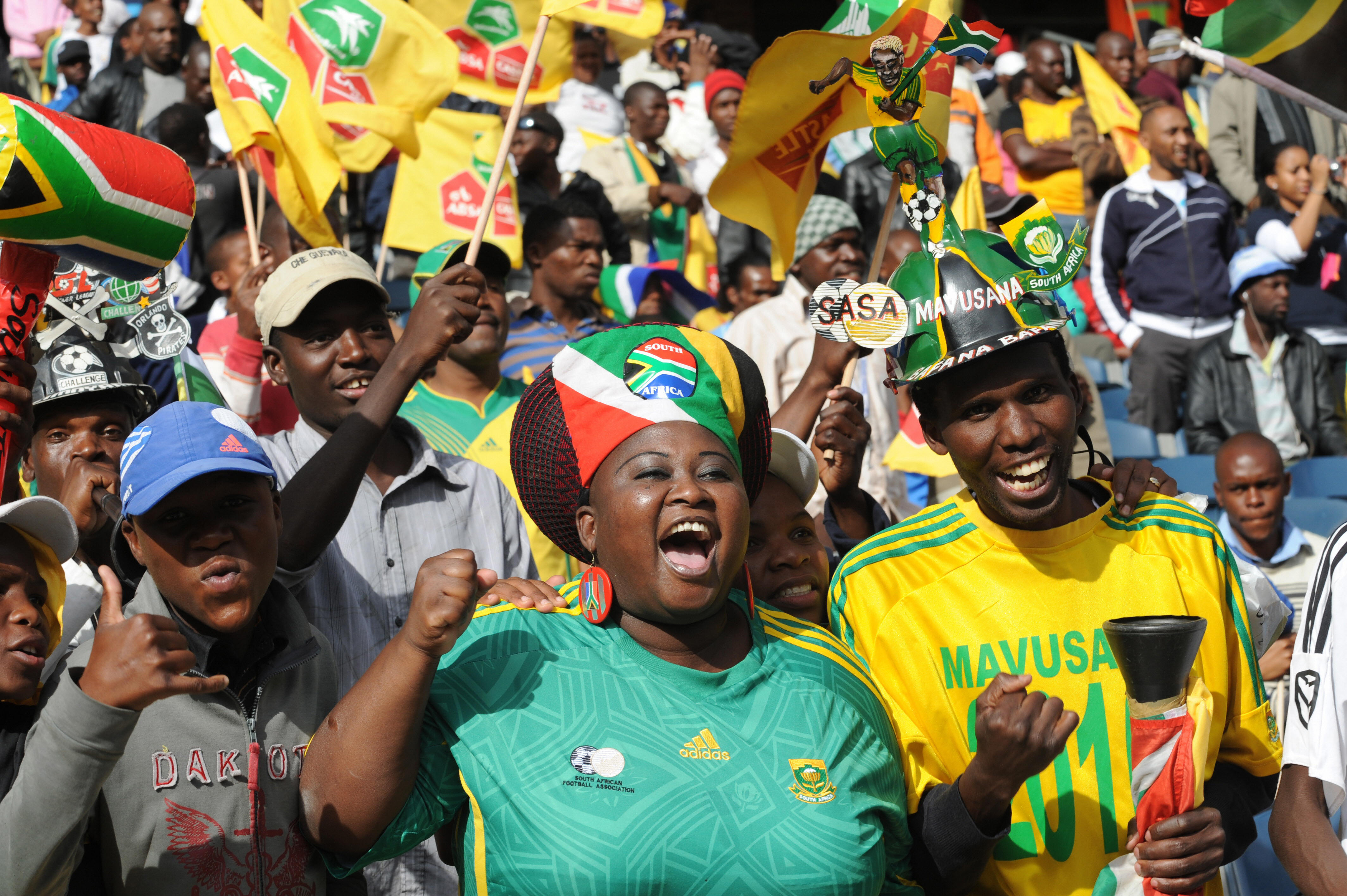 Fans cheer on Bafana Bafana in a recent friendly against Poland.
South Africa has come a long way to get this far, overcoming the disappointment of a failed bid that saw Germany awarded the games in 2006; now the final hurdle.
Ever since FIFA President Sepp Blatter pulled South Africa out of that envelope in 2004 it has been an uphill struggle. With the right to host came a healthy dose of skepticism and doubt. Could this African nation pull it off? Was FIFA secretly planning a backup plan? Would crime ruin their party?
Most of these major issues have been put to rest and satisfied world football's governing body. The stadiums have sprung up, seats bolted firmly in place, and the first pitches are being laid. However, while most of the big issues have been solved the little ones could still upset the greatest sporting event to hit the African continent.
Transportation and accommodation
There is still worry and concern about getting the fans to and from the games. South Africa does not have the public transport systems many visiting fans will be expecting. Most South Africans travel to and from work in overcrowded taxis. Government has tried hard the in last few years to enforce safety standards within the taxi industry but with mixed results.
The introduction of a new bus rapid transit system has been put on hold after angry protests by taxi drivers who were afraid their jobs were at stake. While this new bus system will in all likelihood proceed and be ready for the World Cup, it sadly won't be tested at this years Confederations Cup.
Hotel rooms will be an issue in most host cities. Durban, one of the countries big convention centers, hosts the British Lions tour later this month. Already all flights in and out are full and one needs to travel an hour away to get a hotel room.
Tickets
Despite a global financial crisis tickets for the 2010 FIFA World Cup are still very much in demand and hard to come by. With only five of the 32 competing teams known, already over half a million tickets have been sold to 188 countries and territories. Half of these, over 300,000 bought by South Africans. After the host nation, the biggest interest has been from the U.S. – which has already bought over 70,000 tickets – followed by the UK and Germany.
Bafana Bafana
South Africa's national team – known as Bafana Bafana – have seen better days. Their best showing came in 1996 when they beat Tunisia for the bragging rights of the best team on the continent at the African Cup of Nations, even if this tournament did not include defending champions Nigeria. Since then they have spiraled down in international rankings to linger below 70 and have been through five coaches in five years.
But what also worries the world governing body is that while South Africans profess to love football they are not keen to show it. Recent home games for the national teams have seen half empty stadiums. In many ways the key to whether South Africans start flying the flag for their team and get really excited about the big football tournaments will be how the host nation does in the Confederations Cup. They face Iraq on Sunday in a match their coach admits is key to getting the country behind the team.
South African President Jacob Zuma said on Wednesday that "the growing confidence within the national football team, Bafana Bafana and the arrival of participating teams has added to the football fever engulfing the nation."
A very optimistic President speaking in Parliament whose enthusiasm has yet to be matched by most fans. They are happy to grumble at the sad state of their team but not that willing to show their undying support in the stands.
Confederations Test
The real test for readiness begins with the kick off of the FIFA Confederations Cup on Sunday. While this event will not bring a major influx of tourists to the country, it will be a crucial test for the infrastructure. Will the fans get to the stadium, will the telecommunications hold up and will the whistle blow on time?
How important is the Confederations Cup in finally putting all the doubters to rest? Well, in the words of FIFA President Sepp Blatter on Wednesday "It's definitely time to kick off now, not only in terms of the organization in South Africa, but in terms of making sure they can deliver and will deliver. That's why this Confederations Cup, one year before the big event, is crucial."
Posted by: CNN Johannesburg Bureau Chief, Kim Norgaard
Filed under: Football
June 4, 2009
Posted: 1707 GMT
So another fantastic season of football in Europe comes to a close, and now the excitement is over there is time for reflection and analysis before things kick off again in a few month's time. Who stood out among the myriad of stars fighting for silverware across the continent – well here are my thoughts: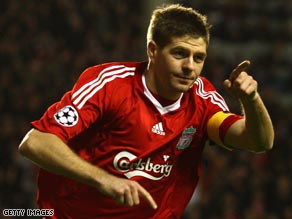 The all-action Gerrard had a vintage season for Liverpool.
English Premier League
Player of the year – Nemanja Vidic (Manchester United)
The Serbian international matured into one of the best defenders in the world during Manchester United's title-winning campaign. The 27-year-old provided the muscle in a back line which proved watertight for much of the season. Vidic led United to a streak of 14 consecutive clean sheets. He also scored four goals, some of them crucial to his team's success in the league.
Honorable mention – Steven Gerrard (Liverpool)
The league's third top scorer with 16 goals and nearly single-handedly kept Liverpool in the title race until the final weeks of the season. Playing further up the field, he provided scoring opportunities to Fernando Torres and Dirk Kuyt who both scored over 10 goals in the campaign. England's best all-round player had probably his best season to date.
Spanish Primera Division
Player of the year – Leo Messi (Barcelona)
You could easily run out of superlatives trying to describe Messi's performances in La Liga this season. The tiny Argentine was simply breathtaking, mesmerizing opponents' defences with his magical dribbling skills, and scoring goals of all shapes and sizes. His finishing was the skill which he improved the most in the last campaign as he tallied an impressive 23 league goals.
Honorable mention – Diego Forlan (Atletico Madrid)
The European Golden Boot winner was a constant threat to goalkeepers all across Spain this season and finished with 32 goals in 33 appearances for Atletico Madrid. One of the hardest working strikers around, the 30 year-old Uruguayan international made the most of the goalscoring opportunities presented to him by Kun Aguero and Maxi Rodriguez.
Italian Serie A
Player of the year – Esteban Cambiasso (Inter Milan)
The heart and soul of an Internazionale side that dominated the Serie A. Esteban Cambiasso was ever present in the Nerazzuri midfield this season and was the first name on the team sheet for manager Jose Mourinho as his tough tackling and intelligent ball distribution made him indispensable. The 28-year-old Argentine international also pitched in with four goals during a stellar campaign.
Honorable mention – Diego Milito (Genoa)
To score 24 goals in the Serie A is tough, but to do it for a non-championship contender is even tougher, but that's what Il Principe accomplished this season. Despite being overtaken at the top of the goalscoring chart by Zlatan Ibrahimovic on the last day of the campaign Milito still earned praise from all corners of Italy for his spirited performances and deadly finishes. Impressed 'The Special One' who bought him for Inter next season.
Bundesliga
Player of the year – Grafite (Wolfsburg)
Wolfsburg won their first ever league title thanks in large part to the goalscoring exploits of this Brazilian striker. An incredible 28 goals in 25 games from a late bloomer who had never scored more than 20 goals in a season in the top flight of any league before. He will be remembered this year for a fantastic solo goal against Bayern Munich in a 5-1 demolition of the Bavarian giants.
Honorable mention – Franck Ribery (Bayern Munich)
The silver lining in a dark cloud for Bayern this season. The Frenchman was just unstoppable and assisted more goals than any other player this season. His own tally wasn't bad either as the 26-year-old winger finished with nine goals. If it weren't for Ribery, Bayern could have easily finished outside the top four.
French First Division
Player of the year – Yoan Gourcuff (Bordeaux)
Proved he is a world-class player with a series of fantastic performances in France as he led Bordeaux to their first title since 1999. He was the maestro of a side who won the last 11 games of the season to clinch the league trophy on the last day of the campaign. Gourcuff, who was on loan from AC Milan, scored a career-best 12 goals and is one of the brightest young stars in European football at 22 years of age.
Honorable mention – Bakary Kone (Olympique Marseille)
One of the fastest players on the planet, the Senegal international gave Olympique Marseille a new dimension following his signing from Nice. The 27-year-old winger terrorized defenders all season long, setting up heaps of goals and getting on the score sheet nine times himself.
Coaches
Coach of the Year
Pep Guardiola – A perfect season for the rookie coach who in his first season in professional management won an unprecedented treble – The Spanish League, Spanish Cup and Champions League. As impressive as the trophy haul was the way they achieved it, playing free flowing attacking football during most of the season. They finished their league campaign with a +70 goal average and were also the top scorers in the Champions League.
Most disappointing coach of the Year
Jurgen Klinsmann – He had to be relieved of his duties in the final sprint for the Bundesliga title race. Worse than their performances in Germany was their capitulation against Barcelona at the Camp Nou. It is inadmissible to concede four goals in a half, even against the almighty European Champions. The fact he failed to motivate a star-studded dressing room means it will be a while before he gets another chance at a top club in Europe.
Posted by: CNN Sport, CNN Sports Anchor, Pedro Pinto
Filed under: Football