April 24, 2009
Posted: 1419 GMT
LONDON, England (CNN) – There was a strong sense of irony in the location the International Olympic Committee (IOC) chose to announce their latest assessment of the progress London had made towards a successful hosting of the 2012 Olympics.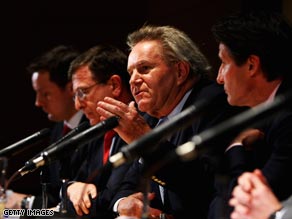 Denis Oswald, chairman of the IOC Coordination Commission, relays his good news
To set the scene, it was barely 24 hours since the British finance minister, Alistair Darling, had announced the need to borrow $257 billion over the next year to aid an economy wracked by recession.
Cold fiscal winds have blown around the world and London, arguably one of the epicentres of the global credit-crunch catastrophe, along with Britain more widely, is feeling its icy chill.
Yet here I stood, in the capital's Docklands financial district, amongst the myriad of glass-skinned, towered-office homes of many of the world's largest banks to hear how further billions were to be spent in the name of sport.
The British government have estimated playing home to the four-yearly Olympiad will cost in the region of $14 billion, an eye-watering figure in prosperous times, let alone the austere age of 2009.
Yet the marbled lobby area and subsequent plush pressroom, far from being doom-laden, held only happy faces and good news.
Despite the best efforts of hardened hacks to concentrate on negative notions, potential problems and rising costs the overall message that London was not only progressing well, but in many areas was ahead of schedule, just could not be suppressed.
"We were really deeply impressed by the progress made in the construction of different venues," a satisfied-looking Denis Oswald, chairman of the IOC Coordination Commission, said.
"We know that everything is on time and this gives a very good feeling three years before the Games."
Oswald had given the Local Organising Committee for the 2012 Olympic Games (LOCOG) a mark of 9.5 out of 10 on his previous visit. This time, when back for a fourth look around the five major venue-construction sites for the Games, London was "very close to 10."
And as the welcome, April sunshine warmed the skin during a short amble back to the subterranean climes of the underground (subway) station it was hard not to hope the ringing endorsements from the IOC could pave the way for an Olympic show in 2012, worthy of the precious investment it is receiving.
Filed under: Olympics
April 20, 2009
Posted: 1250 GMT
LONDON, England – It may be England's national stadium - but Wembley has just felt the wrath of two of the world's most experienced football managers in as many days.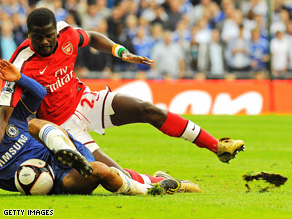 Arsene Wenger described the Wembley turf as 'laughable' after their FA Cup semi-final loss.
Following the two FA Cup semi-final matches at London's Wembley Stadium over the weekend, Manchester United manager Alex Ferguson and Arsenal manager Arsene Wenger have both vented frustrations at the quality of the pitch.
Ferguson's United lost 4-2 on penalties, while Wenger's Arsenal was beaten 2-1 by Guus Hiddink's Chelsea.
The ground was cut up during both matches - affecting not only the balance of players, but also their ability to launch swift, accurate passes. Large divots were regularly taken when players changed direction, and on numerous occasions the ball bobbled up while rolling flat across the surface.
Ferguson told the post-match news conference his team selection had been decided by the state of the pitch in Saturday's semi-final between Chelsea and Arsenal. The 67-year-old surprised some by selecting a very young team for the match.
"Yesterday (Saturday) it looked spongy and dead and difficult to move the ball quickly around it. So we had to go with the bold decision of playing the younger ones," Ferguson told the assembled media.
Wenger was even more critical of the pitch, though, he refused to blame it for his side's 2-1 defeat. Wenger's main issue is that the ground is not flat.
"When you see what this stadium has cost and you cannot turn up with a proper football pitch ... somebody must give explanations about that.
"It's laughable ... the quality of the pitch is a disaster. I just think it's not a pitch," the Arsenal manager told the UK's Guardian newspaper.
Chelsea manager Guus Hiddink, however, felt the pitch was not an issue. He told The Guardian: "The pitch was good to play. I don't want to make a lot of comments about this.
"If you go to a lot of places in Europe and Africa you get pitches that are a lot worse than that. I don't think you should start talking about the pitch, whether you win or lose."
The criticism from Ferguson and Wenger is not the first time the Wembley ground has caused a stir.
In December last year the Australian Rugby Union launched an investigation to find what part the Wembley pitch played in injuries to two players during their match against the Barbarians.
The Croatian football team also complained about the surface following an international match in 2007 played in treacherous conditions due to heavy rain.
The turf has already been re-laid five times since the £750 million ($1.09 billion) stadium officially opened in 2007.
It is understood the current turf, which consists partly of a synthetic element to help it stay firmly rooted, will not be changed for the 30 May FA Cup final.
It is next scheduled to be replaced in the summer, after a series of concerts.
The ground has had a heavy workload over the past two seasons, with events including; American NFL (gridiron) matches, rugby league matches, and a rally car event which saw tarmac laid over the grass.
The Football Association (FA) is yet to make a comment on the pitch following the weekend's matches.
Do you think the turf is up to standard? Tell us in the comments box.
Filed under: Football
April 10, 2009
Posted: 729 GMT
LONDON, England – I never thought I'd have the chance to meet my childhood hero. Despite growing up in Manchester and countless pilgrimages to Old Trafford, the only place I ever managed to see Manchester United manager Alex Ferguson was on television. And it is television, in it's unique way, that finally afforded me the much sought-after opportunity to cross his path.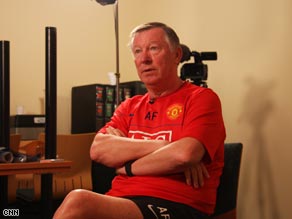 Alex Ferguson, pictured here being interviewed by CNN, has been a hero to fans of Manchester United for more than two decades.
In the mid-late eighties, as a 10-year old boy desperate to see an end to Liverpool's dominance of the (then) First Division, Ferguson offered a rare commodity in football-mad Manchester: hope. The instant I met him this week, it was that same feeling that came flooding straight back, a sense of purpose and a dream that remains true to the original I had as a child.
Shaking hands with Fergie is an experience akin to the one my dad always taught me to expect of an authoritative figure. His grip was brief, firm and yet warm, encouraging. The great man himself can only be described as sprightly, light on his feet. He wore pulled-up socks, shorts and a tucked-in United shirt with AF emblazoned in gold stitching on the front. Alex Ferguson right in front of me, shaking my hand with a warm yet piercing smile and intelligent eyes.
I've always thought that people should choose their heroes carefully, they're meant to stick around for the long haul and be there for you as a reference point. A yardstick with which to measure the passage of time, an authority figure to measure up to.
In that respect idolising someone from the fickle and tumultuous landscape of football may have been foolish. I even remember various levels of disdain at my initial selection, be it from cocksure playground Liverpool fans or discerning family members hoping for a more conservative choice of say politician, literary figure or activist. I have never needed to look back and question that choice.
Twenty-two years later Manchester United have won countless trophies, the team has been re-invented three times over with the likes of Beckham, Cantona, Solksjaer, Keane, Hughes, Robson, Schmeichel, Bruce and Pallister all coming and going. All with Ferguson as their father figure.
Anyone wondering whether a football manager cuts it as a good choice of "hero" should take careful notice of the enduring qualities that Ferguson still continues to embody: success, passion, drive and consistency. And lest we forget the obvious, he's a manager who has produced some of the most exceptional football and footballers of the last three decades and built a club that at the very least counts as one of the best in the world.
So did it feel good to meet Alex Ferguson? Yes. I instantly recaptured that fleeting memory of youth; a time when I actually felt urged to "choose" a hero. He is a man for all seasons and I hope he has many more left in him yet.
Posted by: CNN Producer, James Partington
Filed under: Football
April 9, 2009
Posted: 1908 GMT
MANCHESTER, England – I had tried, and failed, for two long years to get an interview with Sir Alex Ferguson and when it finally happened this week, I can honestly say it was worth the wait.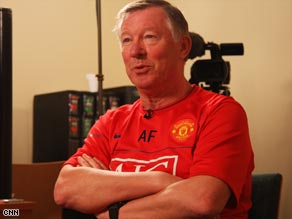 Alex Ferguson is very particular about who he speaks with since he doesn't trust many people in the media.
It was actually thanks to my good relationship with Cristiano Ronaldo that I got through to Sir Alex. My compatriot put in a good word for me with the manager and the press office, and that allowed us to finally get a chance to sit down with Fergie.
CNN always tries to get the top names in every sport, and we have been fortunate to secure interviews with most of the high profile figures in the sporting world - but Ferguson had always eluded us.
He is very particular about who he speaks with since he doesn't trust a lot of people in the media. Here in England, the tabloid press is tough to deal with because they are preoccupied with selling the story rather than telling it, and Sir Alex told me that it is a concern he has.
Fortunately, after dealing with Cristiano and Diana Law in the press office a few times, I was able to build some trust with the club and that's why this interview took place.
I have to say that I was surprised with how personable and affable Sir Alex was during the interview.
You hear all these stories about how he is tough and cold and many people make him out to be a tyrant. However, he was charming during the interview and talked freely about a variety of subjects.
You can tell he has a strong personality and doesn't put up with any insolence, but any great leader needs to have that quality. Furthermore, in today's world of millionaire footballers, he knows he needs to maintain his distance and hold everyone's respect.
Overall, I was very pleased with the interview and the 20 minutes we had with Ferguson flew by. He's got so many great stories to tell that you never lose interest in what he's saying.
At 67, he may be a veteran, but he has certainly adapted to the times and clearly is modern and contemporary enough to hold the interest and attention of his players.
Ferguson told me he feels he's got another two or three years at Old Trafford before retiring, and his top priority is winning another European Cup. That would be his third, and judging by the last two victories, we should expect it to be a dramatic one.
Posted by: CNN Sports Anchor, Pedro Pinto
Filed under: Football