October 30, 2008
Posted: 1026 GMT
In the first hours after his appointment as Portsmouth manager, Tony Adams rang Arsene Wenger, his former boss at Arsenal, to ask for advice. Wenger's response: "Welcome to hell."
We can assume the Frenchman was referring to the pressure that's put on a Premier League manager.
At Portsmouth, Adams will no doubt come under severe scrutiny from fans and media alike, who will pick over his every move and challenge his every call.
Coming to the job with very little actual management experience - he has leapt from coaching assistant at Portsmouth to the top job overnight - his credentials are already being called into question. Unless he can deliver straight away, he faces a difficult future.
How can Adams and other new managers ensure they perform at the top? The likes of Alex Ferguson and Guus Hiddink have managed to stay relatively unscathed in the bigger jobs for years. What gives them the edge?
Posted by: CNN Sports Writer, Peter Sorel-Cameron
Filed under: Football
October 27, 2008
Posted: 1833 GMT
So, Cristiano Ronaldo is the best footballer in the world.
At least according to his fellow pros at the international players' union, FIFPro. The union's annual poll results were announced this week, and the Portuguese star came out on top.
Ronaldo also featured in the short list for the Ballon D'Or, released last week, and was tipped by last year's winner, Brazilian star Kaka to take that accolade as well.
But, as Manchester United continue to stumble domestically, and Ronaldo himself looks a little out of shape, we can't help wondering if he really is better than the likes of Fernando Torres, Lionel Messi or Kaka?
What do you think? Does the Portuguese wonder still have it? Or is there someone else who should be taking all the game's top prizes?
Posted by: CNN Sports Writer, Peter Sorel-Cameron
Filed under: Football
October 24, 2008
Posted: 1729 GMT
Arsenal captain William Gallas is under fire today, having been photographed leaving a London nightclub in the early hours with an unlit cigarette in his hand.
Arsene Wenger, known in the game for his strict discipline and attention to health and fitness, has condemned his captain's behaviour as "unacceptable," although he's standing by him. (The Frenchman has upset Arsenal fans before with his sulky attitude on the field and occasional dodgy defending.)
Gallas isn't the first to draw ire for this dirty habit: Wayne Rooney and Dimitar Berbatov have also been caught red-handed with a sneaky cig.
Is Wenger right? Is it unacceptable for footballers to smoke? Or does the odd smoky treat make little difference to players at the top of their game?
Posted by: CNN Sports Writer, Paul Gittings
Filed under: Football
October 17, 2008
Posted: 1640 GMT
The long-established right of football fans to barrack and jeer and vent their frustrations was drawn into question by two separate international incidents in this week's World Cup qualifying matches.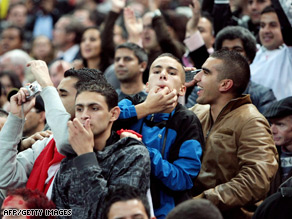 Fans at the friendly between France and Tunisia this week jeered through the French national anthem.
First up was Ashley Cole during England's 5-1 win over Kazakhstan at Wembley. The Chelsea left back was subjected to a continual chorus of boos after making a disastrous error which handed the visitors a goal at a crucial period during the second half.
Stand-in England captain Rio Ferdinand was quick to jump on a bandwagon saying the disgruntled fans "should be ashamed of themselves" and other teammates also rallied round Cole, who it must be said is hardly the most popular member of the England squad after his well-publicized indiscretions on and off the field.
Fans might have forgiven him for apparently engineering a lucrative move from Arsenal to Chelsea, earning him the nickname "Cashley," or his alleged cheating on his popular British popstar wife, but the final straw was his abject back pass to an opposition player who could scarcely believe his luck.
Having paid a small fortune in these credit-crunch times to buy a Wembley ticket, might not fans might feel entitled to let off a little steam as England labored to beat the world's 131st-ranked team whose combined weekly earnings probably don't match those of Cole?
I would not have been among those jeering Cole - well, perhaps only for a moment - but if the fragile egos of our multi-million-pound footballers cannot stand a few catcalls then heaven help them in the more pressurized atmosphere of the World Cup finals.
Three days later and a furious row erupted as the French national anthem was drowned out before the start of a "friendly" international against Tunisia at the Stade de France in Paris.
The majority of the crowd was of North African origin and it did not appear to affect the French too badly as they ran out 3-1 winners.
But the snubbing of "La Marseillaise" infuriated French politicians and dignitaries who attended the match: the sports minister was summoned to meet president Nicolas Sarkozy, who himself called the incident "scandalous."
The solution seemed heavy-handed in the extreme as ministers and sports officials threatened to call off matches on the spot if such scenes were repeated.
UEFA chief Michel Platini said the idea was "absurd," a rare moment of clarity from the former French international hero who recently criticized English teams for losing their identity by playing too many foreign players while neglecting to point out that he had spent much of his playing career playing in Italy for Juventus with a host of other overseas players.
French Communist Party leader Marie-George Buffet, a former sports minister, offered an analysis that is even more uncomfortable for Sarkozy and his government.
"So we stop the match, then what? Is it going to solve the problem of these men and women who in a way are expressing that they don't feel right in our country?" she said.
All this in a week when European governing body UEFA finally acted decisively to deal with the totally unacceptable racist chanting that occurred in Atletico Madrid's Champions League game at home to Marseille.
Racist, sexist and homophobic chanting clearly has no place in civilized society. Other forms of barracking used also to be tolerated, but for how much longer?
Over to you: Is booing taboo? Should it be banned?
Posted by: CNN Sports Writer, Paul Gittings
Filed under: Football
October 13, 2008
Posted: 1619 GMT
When a colleague offered me her spare tickets for the England v Kazakhstan game at Wembley stadium, I jumped at the chance to go to my first live football match.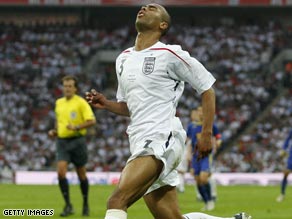 Ashley Cole was booed by many of the 90,000-strong capacity crowd at Wembley.
And I have to say, I thoroughly enjoyed every moment and my initial timid shouts of "Go on England," soon gave way to loud screams, one of which attracted a look of alarm from the young boy in front of me.
Soon I was leaping out of my seat in anticipation every time an England player approached the opposition's goalmouth.
Although, it did get a little frustrating in the first half as chance after chance was squandered and the half ended in a goalless draw.
Things obviously livened up in the second half with six goals in total, but most of the drama was happening off the pitch, with what seemed like half the crowd booing Chelsea player Ashley Cole, for his, admittedly schoolboy error that landed the Kazakhstan side their only goal.
Initially, I thought it was outrageous when the chorus of boos resounded around the 90,000 capacity stadium. But after the fourth or fifth time, it quickly became tiresome and - to me - unpatriotic.
It was left to a lone Cole supporter in our section to stand up and tell the crowd, in no uncertain terms, how they were unfit to clean Cole's boots etc. "You're all effing scum. He's worth more than all of you put together," he screamed, fury etched on his face.
That's probably true, they don't call him Cashley Cole for nothing!
After that, every time Cole touched the ball and was booed, he would get up and applaud him loudly.
Pretty soon, others in our section (and me) joined him in clapping Cole.
Unfortunately, we were drowned out by the unrelenting sound of booing reverberating around the stadium.
What do you think? Did Ashley Cole deserve to be booed by England fans?
Posted by: CNN Digital Producer, Stephanie Busari
Filed under: Football